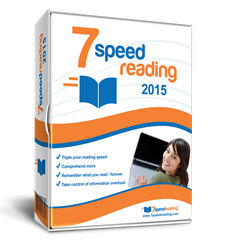 The software offers users no less than 7 strategies to effortless speed reading.
New York City, NY (PRWEB) March 19, 2015
eReflect is well known as the company behind popular software 7 Speed Reading™, but the company is also the developer of Spreeder, an free online speed reading app available to anyone who wants to improve their reading skills. In a recent blog post on the 7 Speed Reading™ website, eReflect features Sharon Hennessy's evaluation of the new version of the speed reading app, which eReflect just released. ESOL teacher Sharon Hennessy shares her view on the Spreeder app and explains the ways in which she found Spreeder to be a convenient application that helps people practice their reading skills on mobile devices, tablets, and laptops in a user-friendly environment.
Hennessy highlights several aspects of the app in her evaluation of Spreeder. She notes that the program is simple to use; the reader simply pastes the text they want to speed read into the web application, sets the parameters by which they want to read, and then begins speed reading. As she explains, Spreeder comes in handy in her work as an ESOL teacher because it helps her show her students the reading level college students must have in order to keep up with the academic demands of higher education. As Hennessy explains,
"I put passages we had previously read in Spreeder, and ran them at different speeds so students could understand the target needed for college level reading. I asked them to find a level that was comfortable for them. Then students read unfamiliar texts at a comfortable speed and answered comprehension questions … We used Spreeder as a class about once a week and monitored changes in reading comprehension scores."
Spreeder is one of the best speed reading apps available to the public for free. eReflect has developed both Spreeder and 7 Speed Reading™ in order to help people everywhere get more of their reading. The company believes that, given the ever-increasing production of new content, people without this key skill cannot keep up with the developments and knowledge created and published each day.
Spreeder helps people develop their reading skills, and eReflect also offers speed reading software that helps people overcome their deeply entrenched and counterproductive reading habits like regression and subvocalization. The software offers users no less than 7 strategies to effortless speed reading.
Hennessy highlights the benefits of using Spreeder in an ESL environment. In her guest post on the 7 Speed Reading™ blog, she notes that learners of English as a second language will find Spreeder a helpful tool that they can tailor to their individual reading needs and goals. Using an app like this will help people improve their reading speed and learn to speed read the right way.
************
For more information about the benefits of using 7 Speed Reading, please visit the official website at http://www.7speedreading.com.
About 7 Speed Reading™
7 Speed Reading is the only modern speed reading software that uses the latest technology to produce superior results.
The software provides its users with a new way to master speed reading that guarantees three times the reading speed along with improved memory and comprehension.
The software is poised as the most comprehensive speed reading system anywhere. It contains seven learning strategies, fifteen software activities, video training, advanced tracking capabilities and many more exciting features.