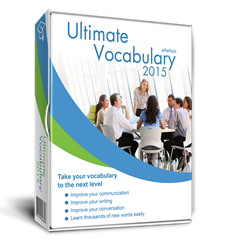 To easily remember words, it's necessary to use them regularly both in spoken and written form.
New York City, NY (PRWEB) March 20, 2015
eReflect has a gift for their verbally competitive readers: a list of seven and eight-letter words they can memorize and use in their next Scrabble or Words With Friends game. eReflect and Ultimate Vocabulary™ give people word power with fun and essential educational and executive vocabulary to benefit them in all aspects of life, work, and play.
eReflect is the designer of the best vocabulary builder, Ultimate Vocabulary™. In this blog post, the editor features eight words that people can use in vocabulary-based games like Scrabble or Words With Friends to score high points (and possibly win the entire round). The Ultimate Vocabulary™ editor shows how the words "maximize" and "jezebel" can be used to win games like these, noting that "maximize" gives the player no less than 76 points in a typical game. "Jezebel," a word used to describe a shameless, impudent woman, nets the player 75 points. "Wheezily" (in a manner of talking or performing that produces a wheezing sound) is another eight-letter word that gives the player 76 points.
Ultimate Vocabulary™ and eReflect point out that games like Scrabble and Words With Friends can be easily won if the player has a broad, extensive, even executive vocabulary. However, as the article emphasizes, getting that vocabulary is not just a matter of learning new words. People also need to actively practice their vocabulary. When a person doesn't use their new words regularly, they run the risk of forgetting them, or having a hard time recalling words during conversations. This "tip of the tongue" phenomenon is something that all readers can identify with.
To easily remember words, it's necessary to use them regularly both in spoken and written form. Frequent use not only helps a person use the right word at the right time, but also provides another, more intangible benefit. It improves the way other people view that person, leaving them impressed by the effortless mastery of the English language. On the lighter side, vocabulary can also be used for fun purposes like playing Scrabble. In games like these, knowing high-scoring words such as "equalize," "flapjack," and "quickly" means better chances of winning.
The word "jukebox" is a word that can push a player over the top to victory, as it has the potential to net the player a whopping sum of 77 points. Perhaps the king of all Scrabble words is "quizzify" - a word that garners 81 points for the skilled player. eReflect encourages everyone to play language-based games often as a way of having lots of fun while practicing their vocabulary skills.
***********
For more information on how you can benefit from Ultimate Vocabulary, please visit its official website, http://www.ultimatevocabulary.com.
About Ultimate Vocabulary™
Ultimate Vocabulary provides a proven and powerful platform, built to improve anyone's vocabulary.
The interactive self-improvement system provides more learning tools than any other program on the market, as well as more information on words.
The Ultimate Vocabulary software provides each and every user with a personal computer tutor. Providing a step-by-step guide to learning a powerful vocabulary, Ultimate Vocabulary is the learning tool everyone can benefit from.
Of course, the software is also backed by eReflect's iron-clad money back guarantee.