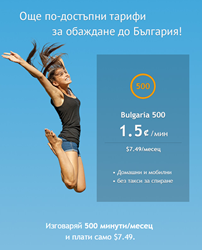 Beside monthly plans, Zdraveite.com also offers Voice Credit and Virtual Numbers.
Atlanta, Georgia (PRWEB) March 21, 2015
For everyone making frequent calls to Bulgaria, Zdraveite.com announces the launch of a new product: the monthly plan. This product is the most economical solution for calls to Bulgaria and functions as a monthly subscription. The first plan available on Zdraveite.com is Bulgaria 500, offering 500 minutes to any number in Bulgaria.
The monthly plan brings a notable discount for all those calling to Bulgaria on a regular basis. Bulgaria 500 costs only $7.49/month and includes 500 minutes to both landlines and mobiles in Bulgaria. The rate per minute when using this plan is 1.5¢/min.
Like any subscription, monthly plans are renewed each month without the customers' direct intervention. The users buy the monthly plan only once, before the first use, and after that the minutes are automatically added to their account and the payment is made at the same date each month. The customers are charged directly on the credit or debit card saved in their account. All monthly plans are available for 30 days from the date when they are purchased. Plus, customers can cancel their monthly plans at any time and without any cancellation fee.
Minutes offered by monthly plans can be used from:
any phone, through the use of local access numbers;
any computer with an Internet connection through the Web Call application;
any smartphone, as Zdraveite.com offers a free app called KeepCalling for both iOS and Android devices. By using the free app, customers can make calls by using their phone contacts as long as they are saved in international format.
Beside monthly plans, Zdraveite.com also offers Voice Credit and Virtual Numbers. Voice Credit is a prepaid service offering affordable credit for international calls and SMS. International calls to Bulgaria can be made by using Voice Credit at: 1.9¢/min for landlines and 8.9¢/min for mobiles, while the cost of an SMS to Bulgaria is 18¢.
Virtual Number is a service through which customers can get an unlimited number of calls for a very low monthly fee. The advantage is that anyone calling the customers' Virtual Number will only pay the regular rate of a local call.
What differentiates Zdraveite.com from other services are the low prices offered, the frequent promotions, the simple ordering processes, and the safety of online transactions. What makes the service even more attractive and trustworthy are the comprehensive Help Center and the 24/7 Customer Service, available by phone and email in both English and Spanish.
Zdraveite.com guarantees 100% transaction security and satisfaction. All major payment methods are accepted: Visa, MasterCard, American Express, Discover, and PayPal. Moreover, payment is available in several currencies: US, Australian, or Canadian Dollars, plus British Pounds and Euros. The payment security system is known as very strong.
About Zdraveite.com:
Zdraveite.com is an interactive website designed by KeepCalling, a global telecommunications company registered in 2002 in USA. Presently, KeepCalling provides its services to hundreds of thousands of consumers and businesses, with a focus on customer satisfaction. KeepCalling has been listed by Inc 5000 in top 20 telecom companies in the USA for the last 4 years. In 2014 the company was designated the 18th fastest growing company in the telecommunications industry in USA with a revenue increase of over 600% from 2010 to 2013.