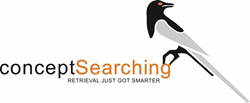 The challenges of leveraging metadata across the entire enterprise can be daunting, without the appropriate technology to automate tagging
McLean, VA, US and Stevenage, UK (PRWEB) March 19, 2015
Concept Searching, the global leader in semantic metadata generation, auto-classification, and taxonomy management software, and developer of the Smart Content Framework™, is compiling the statistics from its 2015 SharePoint and Office 365 Metadata survey, currently unpublished. One of the findings, gathered from over 360 responses, indicates a renewed focus on improving enterprise search.
Based on the two previous surveys, supported by analysts and in line with a recent AIIM survey, results indicate that enterprise search has become a stumbling block in many organizations, and instead of proactively managing content, they have learned to live with the problem. The 2015 SharePoint and Office 365 Metadata Survey saw an increase in the focus on enterprise search, despite the fact that 23% of participating organizations stated that enterprise search works as intended. On the other hand, 15% have escalated it to a high priority, 30% are actively improving now, and 26% have it on the agenda of application improvements within the next twelve months.
The crux of the problem can be attributed to manual metadata tagging, which is still the most widely used approach to tag content, at 93%, which is down only slightly from the past two years. This contributes to increasing the challenge of improving the relevancy and accuracy of search results, because efforts are largely manual and reiterative in the tuning of a search engine, as it must continually adapt to the fluidity of the organization. Despite the fact that tools are available to automate metadata generation, classification, and content management, many organizations are only now moving to the awareness stage on a metadata maturity model. This factor has made the most impact on organizations' ability to accomplish and solve metadata challenges.
"A new focus on enterprise search can be viewed as a step forward in the management and use of unstructured content. Organizations are realizing that the issue isn't going to go away and is now impacting applications such as records management, security, and litigation support. This translates into real business currency and increases the risk of non-compliance and security breaches. You can't find, protect, or use what you don't know exists," said Martin Garland, President of Concept Searching. "For those organizations that are using, or intend to deploy, a hybrid environment, the challenges of leveraging metadata across the entire enterprise can be daunting, without the appropriate technology to automate tagging," Garland concluded.
About Concept Searching
Concept Searching is the industry leader specializing in semantic metadata generation, auto-classification, and taxonomy management. Platform agnostic, Concept Searching also has a Microsoft Gold Application Development competency, and offers a complete suite of SharePoint and Office 365 solutions. The award winning technologies integrated with Concept Searching's Smart Content Framework™ encompass the entire portfolio of unstructured information assets in on-premise, cloud, or hybrid environments. Clients have deployed the intelligent metadata enabled solutions to improve search, records management, identification and protection of privacy data, migration, text analytics, eDiscovery, and enterprise social networking applications.
Concept Searching is headquartered in the US with offices in the UK, Canada and South Africa. For more information about Concept Searching's solutions and technologies visit http://www.conceptsearching.com and our Blog, and follow us on Twitter and LinkedIn.
All product and company names herein may be trademarks of their respective owners.