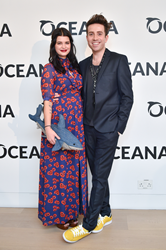 "This event is a unique way to use fashion to support a cause that I truly believe in. Oceana's international approach to protecting our oceans is urgently needed, and fashion is a fun way to draw attention to this important work." - Stephanie Bilet
London, UK (PRWEB UK) 20 March 2015
CREDIT: Junior Ocean Council's 'Fashions for the Future' Event
WHAT: 'Fashions for the Future' was co-hosted by Junior Ocean Council Chair Stephanie Bilet, as well as Pixie Geldof and Radio One presenter Nick Grimshaw. Also in attendance on the night were philanthropists, taste-makers and environmentalists including Sir Bob Geldof, Edie Campbell, Otis Ferry, Daisy Lowe, Gabriella Wilde, Henry Conway, Jack Guinness and Ben Goldsmith along with Oceana's CEO Andrew Sharpless.
Hosted at London's Phillips Auction House, the event supported Oceana, an international organisation focused on protecting the marine habitat and restoring the ocean's productivity. The evening's guests enjoyed canapés, a series of marine-inspired cocktails and wine provided by Drinksfusion and Barefoot Wines, and a high-octane fashion show which featured sustainable designers including Christopher Raeburn, ADA + NIK, Rapanui, Juniper Lai, Auria London and Rose Fulbright. Model Daisy Lowe participated in the catwalk show itself, as well as Ben Goldsmith (to much applause), whilst roles where reversed as model Edie Campbell watched on proudly as boyfriend Otis Ferry walked the catwalk.
Stephanie Bilet said: "This event is a unique way to use fashion to support a cause that I believe in. Oceana's International approach to protecting our oceans is urgently needed, and fashion is a fun way to draw attention to this important work."
Fashions for the Future was made possible by the generous support of the event's sponsors and underwriters including; Phillips Auction House, Paperless Post, Lagunitas IPA, Drinksfusion, Barefoot Wines and WickerWood.
Following Fashions for the Future, guests headed off to 5 Hertford Street for the exclusive after-party.
VIP attendees included: Pixie Geldof, Nick Grimshaw, Sir Bob Geldof, Newton Faulkner, Edie Campbell, Daisy Lowe, Gabriella Wilde, Jack Guinness, Sabrina Guinness, Astrid Harbord, Henry Conway, Otis Ferry, Tolula Adeyemi, Brent Hoberman, Ben and Jemima Goldsmith, Ozwald Boateng and Percy Parker.
WHEN: Thursday 19th March 2015, from 7pm to 11pm
WHERE: Phillips Auction House, 30 Berkeley Square, London, W1J 6EX
WHAT THEY DRANK:

Drinksfusion cocktails
White and red wine provided by Barefoot Wines
WHAT THEY ATE:

Saffron, pumpkin and parmesan arancini
Tarragon buttered chicken breast, heritage vegetable ratatouille, creamed potato
Warm quinoa, grilled halloumi, blood orange, avocado and roasted piquillo peppers
Chocolate orange brownies with hazelnut
Note to Editors:
About Fashions for the Futures Event:
The Fashions for the Future event showcased designers who have built a career around reusing materials including utilising marine debris to create beautiful clothing with the hopes of promoting looking good while doing good. Designs were modeled by a combination of environmentally conscious models and young marine conservationists. To learn more about the event, please visit http://joclondon.org/.
About Oceana:
Oceana is the largest international advocacy organization focused solely on ocean conservation. We run science-based campaigns and seek to win policy victories that can restore ocean biodiversity and ensure that the oceans are abundant and can feed hundreds of millions of people. Oceana victories have already helped to create policies that could increase fish populations in its countries by as much as 40 percent and that have protected more than 1 million square miles of ocean. We have campaign offices in the countries that control close to 25 percent of the world's wild fish catch, including in North, South and Central America, Asia, and Europe. To learn more, please visit http://www.oceana.org/.
The Junior Ocean Council:

Stephanie Bilet, Chair
Edward Scott-Clarke
Marc-Phillipe Davies
Georgia Pownall
Max Gates-Fleming
Henry Conway
Helena Dickie
Matt Langton
The Contributing Committee:

Sergio Penzo
Henry Simonds
Alexander Cooper
Felix Higgins-Stockden