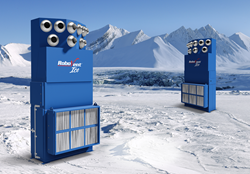 STERLING HEIGHTS, Michigan (PRWEB) March 19, 2015
With over 25 years of experience in the fume and smoke filtration industry, RoboVent, Inc. (http://www.robovent.com) has introduced their patent-pending RoboVent ICE solution. RoboVent ICE goes beyond traditional HVAC by integrating dust collection and air conditioning. Combining the two systems produces major benefits for your facility and your workers-all of which boosts profitability for your business.Create a Healthier Working Environment by installing RoboVent ICE. You can rest assured that even ultra-fine dust has been removed from the air your workers breathe. Plus, the air is cooler and drier; which eliminates the risk of heat stroke, heat exhaustion and other heat-related ailments.

Reduce Maintenance- RoboVent ICE eliminates the need for maintenance of your air conditioning coils. Since the air going through the coils is filtered to 99.99%, the coils stay clean with no need for maintenance cleaning. RoboVent ICE is good for your existing equipment too, as it is proven to reduce downtime and maintenance costs by mitigating the risk of electrical panel failure, machinery corrosion and other problems that can arise in hot, humid conditions.
Increase Your Bottom Line- With better air quality, you can count on increased employee productivity. Your workers will be happier and more energetic on the floor-and less likely to call in sick or consider moving to another job.
About The Company
During the past 25 years RoboVent has established itself as the leader in the field of air filtration with highly efficient, reliable, and cost-effective systems installed at major manufacturing operations across North America. Applications include welding, cutting and metalworking; dust and lubricant mist collection; as well as general ventilation. At its' core, RoboVent is an environmental problem solving company for process systems. Their expertise and resources in collecting, filtering and recycling contaminated air can be applied to almost any process in the manufacturing environment. For more information visit http://www.RoboVent.com
####
Contact:
Stuart Pollak
Marketing Director