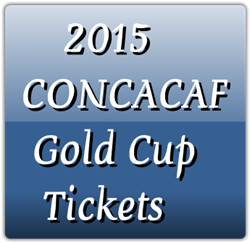 New York, NY (PRWEB) March 19, 2015
The 2015 CONCACAF Gold Cup tournament will be held from July 7th through July 26th, features 12 teams that will compete across the United States in 14 venues. This year marks the 13th time the CONCACAF Gold Cup tournament has been held and overall marks the 23rd time a regional championship has been held in CONCACAF's 50 years of play.
2015 CONCACAF Gold Cup Schedule:
7/7/15
CONCACAF Gold Cup - Group A: Panama vs. Haiti & United States vs. TBD Tickets, Frisco, TX Toyota Stadium (formerly FC Dallas Stadium)
Tuesday, July 7, 2015
7/8/15
CONCACAF Gold Cup - Group B: Costa Rica vs. Jamaica & El Salvador vs. Canada Tickets, Carson, CA StubHub Center - Soccer Stadium (formerly the Home Depot Center)
Wednesday, July 8, 2015
7/9/15
CONCACAF Gold Cup - Group C: Trinidad and Tobago vs. Guatemala & Mexico vs. Cuba Tickets, Chicago, Illinois Soldier Field Stadium
Thursday, July 9, 2015
7/10/15
CONCACAF Gold Cup - Group A: TBD vs. Panama & United States vs. Haiti Tickets, Foxborough, Massachusetts Gillette Stadium
Friday, July 10, 2015
7/11/15
CONCACAF Gold Cup - Group B: Jamaica vs. Canada & Costa Rica vs. El Salvador Tickets, Houston, TX BBVA Compass Stadium
Saturday, July 11, 2015
7/12/15
CONCACAF Gold Cup - Group C: Trinidad and Tobago vs. Cuba & Mexico vs. Guatemala Tickets, Glendale, Arizona University Of Phoenix Stadium
Sunday, July 12, 2015
7/13/15
CONCACAF Gold Cup - Group A: Haiti vs. TBD & Panama vs. United States Tickets, Kansas City, Kansas Sporting Park (Formerly Livestrong Sporting Park - KC)
Monday, July 13, 2015
7/14/15
CONCACAF Gold Cup - Group B: Jamaica vs. El Salvador & Canada vs. Costa Rica Tickets, Toronto, Ontario BMO Field
Tuesday, July 14, 2015
7/15/15
CONCACAF Gold Cup - Group C: Cuba vs. Guatemala & Mexico vs. Trinidad and Tobago Tickets, Charlotte, North Carolina Bank Of America Stadium
Wednesday, July 15, 2015
7/18/15
CONCACAF Gold Cup: Quarterfinal 1A Tickets, Baltimore, MD M&T Bank Stadium
Saturday, July 18, 2015
7/19/15
CONCACAF Gold Cup: Quarterfinal 1C Tickets, East Rutherford, NJ MetLife Stadium (Formerly New Meadowlands Stadium)
Sunday, July 19, 2015
7/22/15
CONCACAF Gold Cup: Semifinal Doubleheader Tickets, Atlanta, Georgia Georgia Dome
Wednesday, July 22, 2015
7/25/15
CONCACAF Gold Cup: Third Place Match Tickets, Chester, PA PPL Park
Saturday, July 25, 2015
7/26/15
CONCACAF Gold Cup: FINAL Tickets, Philadelphia, PA Lincoln Financial Field
Sunday, July 26, 2015
The winner of this year's event will compete later this year against the winner of the 2013 CONCACAF Gold Cup, the United States, for the chance to play in the 2017 FIFA Confederations Cup. There are other serious implications that will be on the line in this tournament including berths into the Copa América Centenario.
The 2015 field of teams includes the United States, a five-time champion; Mexico, a six-time champion; and Canada, a one-time champion. In addition to these former CONCACAF Gold Cup champions, Costa Rica, Guatemala, Panama, El Salvador, Jamaica, Trinidad and Tobago, Haiti, and Cuba will be competing. The final team to compete will be determined at a later time and is down to Honduras and French Guiana.
When it comes to where American soccer fans can catch the action of the 2015 CONCACAF Gold Cup live this July, the finals will be held at Lincoln Financial Field in Philadelphia, PA; while the semi-finals will be played at the Georgia Dome in Atlanta, GA; and quarterfinals action will be played at M&T Bank Stadium in Baltimore, MD; and MetLife Stadium in East Rutherford, NJ. In addition to these venues, fans can also catch all the exciting action in Charlotte, NC; Foxborough, MA; Glendale, AZ; Carson, CA; Kansas City, MO; Toronto, Ontario, Canada; Houston, TX; Frisco, TX; and Chester, PA.
About TicketDown.com:
Ticket Down delivers tickets to sold out concerts and events worldwide when no one else can, and they do so at discounted prices. This popular ticket exchange also has authentic 2015 CONCACAF Gold Cup tickets. Diehard soccer fans can add promo code SOCCER for added savings.
Note: Ticket Down is not associated with any of the soccer teams or venues mentioned in this release. The names that are used in this release are purely for descriptive purposes. We are not affiliated with nor do we endorse any artists or venues in this release.
Check out our discount codes online for all upcoming events. Ticket Down has low overheads which allow this well-known ticket site to keep prices competitive.