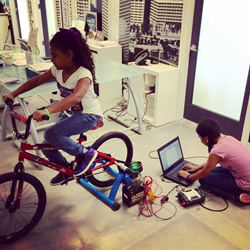 What's exciting is that for the children in Cambodia...the bicycle generator will be their first source of electricity at the school.
Miami, Fla. (PRWEB) March 23, 2015
Children of Inmates, Inc. (COI) has designed a special Earth Day project that joins children in Miami-Dade and Broward counties, Florida, with children in Phnom Penh, Cambodia. The goal of project, titled "KidPower 2015," is designed to encourage COI kids to be leaders in the movement to protect the Earth for future generations.
COI kids will be participating in this joint project with fourth graders at Hollywood Central Elementary School and the children at the Light of Future School #1 in Phnom Penh, Cambodia.
"We are coaching kids to lead," says Linda P. Freeman, KidPower2015 Project Coordinator. "We have designed a unique curriculum for our children to not only better understand our planet and how to conserve it, but also learn about other cultures, technology, and the arts."
Four activities are planned:
1) Build bicycle generators to power laptop computers. Program participants will develop their engineering and math skills while learning a clean energy technology that generates electricity.
2) Explore environmental protection and conservation needs in their countries.
3) Share their learning experiences through video-conferencing; and
4) Utilize the creative arts – music, visual arts, and dance – to express Earth Day Network's 2015 theme, "It's Our Turn to Lead."
"We will have bicycle generators in both Hollywood, Florida, and Cambodia," says Freeman. "And the children will connect via Skype to share their experiences. What's exciting is that for the children in Cambodia at the Light of Future School, the bicycle generator will be their first source of electricity at the school."
COI is a south Florida collaborative effort between twelve Florida organizations, with a mission to help children mitigate the trauma associated with the arrest and incarceration of their parents. "More than 200,000 children in Florida have a parent in prison or jail" says Freeman.
Children with incarcerated parents often struggle with mental illness, poor school performance, and antisocial behaviors. Many of the infants and younger children suffer from attachment disorders, malnutrition, and lack of attention by remaining caregivers.
Using family-based interventions, COI helps the children and families to connect with each other and with appropriate community resources. COI works to assure that children with incarcerated parents have opportunities to be cared for and supported in their development by responsible adults, helping professionals, and others in their communities.
For more information, visit http://www.childrenofinmates.org.