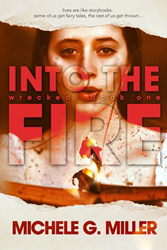 I have to say Michele G. Miller has a way with words and I am completely and utterly a fan of her writing.
Manning, SC (PRWEB) March 27, 2015
Releasing on March 29th on all major e-book retailers. Pre-order is also available.
Into the Fire is a realistic Young Adult / New Adult cross over novel that tugs on your heartstrings as you follow the story of Dani, a girl attempting to piece her life back together while working through the pain, guilt and suffering of her past.
The author, Michele G. Miller is known for her best selling series, From the Wreckage. Michele writes novels with fairy tale love for everyday life. Romance is always central to her plots where the genres range from Coming of Age Fantasy and Drama to New Adult Romantic Suspense.
Book Blogger Shayna Varadeaux said "I have to say Michele G. Miller has a way with words and I am completely and utterly a fan of her writing."
About the book:
"At fifteen, an accident turned my world upside down. Scarred in every way possible, I shut down, finding comfort by self-inflicting pain.
I've grown accustomed to the truths of my life, but I'm tired.
Tired of this reality...
Tired of the need...
Of the pain...
I'm weary of being this person...
Of being alone...
Though, I'm more afraid of letting someone in.
It's been five years.
Can I return home and face my fears? Overcome the pain?
It's time to find out.
For too long, the story of my life has been one of horror.
I want my fairy tale.
I want my prince, my happily ever after.
The question is, does it want me?"
Miller said "'Into The Fire is the story of a teen who loses everything at the exact moment everything was perfect. My passion is writing stories that will make your heart both break and soar. I choose to tackle tough topics such as depression, self-harm, natural disasters, grief and guilt because those are things real people go through. My desire is for my stories to offer a small ray of hope to readers who may be struggling in their lives. My dedication for 'Into The Fire' says it all: To the ones in pain. Hold On. Life is beautiful and worth it and you are loved dearly."
About the author:
Having grown up in both the cold, quiet town of Topsham, Maine and the steamy, southern hospitality of Mobile, Alabama, Michele is something of an enigma. She is an avid Yankees fan, loves New England, being outdoors and misses snow. However she thinks southern boys are hotter, Alabama football is the only real football out there and sweet tea is the best thing this side of heaven and her children's laughter.
Her family, an amazing husband and three awesome kids, have planted their roots in the middle of Michele's two childhood homes in Charlotte, North Carolina.
Follow Michele on Facebook.