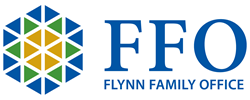 These awards validate our approach and are the result of the tireless efforts of our entire team, Focus Financial Partners and the support we've received from the sector. Special thanks to Family Wealth Report and ClearView Media," said Rick Flynn.
New York, NY (PRWEB) March 19, 2015
Flynn Family Office (FFO), one of North America's foremost family office and business management companies was last night honoured with both 'Best New Entrant' and 'Best Brand Launch/Re-launch' at the 2nd Family Wealth Report Awards 2015. The glittering awards dinner was held at the exclusive Mandarin Oriental, New York.
This is yet another milestone in FFO's drive to be recognized as one of the pre-eminent players in the competitive Family Office and Business Management for ultra-wealthy individuals and families.
Showcasing 'best of breed' providers in the global private banking, wealth management and trusted advisor communities, the awards were designed to recognize companies, teams and individuals which the prestigious panel of judges deemed to have 'demonstrated innovation and excellence during 2014.'
Commenting on the firm's awards, Rick Flynn, Managing Partner, Flynn Family Office said: "Decades of sector experience, a proven client service model and an impressive team of professionals gave us the confidence to pursue independence in an intensely competitive sector. In creating FFO, we recognized opportunity to build on these strengths to become the premier family office services and advanced planning firm to ultra-wealthy communities. These awards validate our approach and are the result of the tireless efforts of our entire team, Focus Financial Partners and the support we've received from the sector. Special thanks to Family Wealth Report and ClearView Media for again hosting a program that unites industry luminaries in celebration of our shared successes."
ClearView Financial Media's CEO, and Publisher of Family Wealth Report, Stephen Harris, was first to extend his congratulations to all the winners. He said: "The firms who triumphed in these awards are all worthy winners, and I would like to extend my heartiest congratulations. These awards were judged solely on the basis of entrants' submissions and their response to a number of specific questions, which had to be answered focusing on the client experience, not quantitative performance metrics. That is a unique, and I believe, compelling feature. These awards recognise the very best operators in the private client industry, with 'independence', 'integrity' and 'genuine insight' the watchwords of the judging process - such that the awards truly reflect excellence in wealth management."
"We congratulate Rick Flynn and his team for this well-deserved recognition," said Rajini Kodialam, Co-Founder and Managing Director of Focus Financial Partners. "Flynn Family Office's unwavering commitment to excellence is what makes them a leader in this space."
About Flynn Family Office
FFO (http://www.ffollc.com) is a premier multi-family office serving ultra-wealthy individuals, families and their advisors. Our award-winning team of dedicated family office, accounting and advanced planning specialists puts the family in focus to create adaptable and scalable solutions that allow clients to more fully enjoy the benefits of exceptional wealth. FFO family office solutions and services align financial and lifestyle objectives under a unified family wealth strategy, allowing all major decisions to be made with respect to defined family values.
As pioneers of the Outsourced Single-Family Office, Outsourced Multi-family Office, Celebrity Family Office, Virtual Family Office and Outpost Family Office models, the FFO team has been at the forefront of sector innovation for more than a decade. Core capabilities are supported by proprietary systems and technologies and are enhanced by an extensive network of elite service provider relationships. Customized solutions and an unmatched reputation for privacy and discretion allow FFO to partner with dynamic and sophisticated segments of the ultra-wealthy community, including billionaires, entrepreneurs, athletes, artists and entertainers.
About ClearView Financial Media Ltd ("ClearView")
ClearView Financial Media was founded by Chief Executive, Stephen Harris in 2004, to provide high quality 'need to know' information for the discerning private client community. London-based, but with a truly global focus, ClearView publishes the Familiy Wealth Report group of newswires, along with research reports and newsletters, while also running a pan-global thought-leadership events programme.
With teams based in London, Singapore, Switzerland, South Africa and the Philippines, the company is one of the fastest-growing media groups serving the financial services sector.
About Focus Financial Partners
Founded in 2006, Focus Financial Partners, LLC, is the leading international partnership of independent, fiduciary wealth management firms. With more than $325 million in annual run rate revenues, Focus provides unrivaled access to best practices, resources, and continuity planning for its partner firms who serve individuals, families, employers and institutions with wealth management, benefit and investment consulting services. Focus partner firms maintain their entrepreneurial independence, while they benefit from the synergies, scale, economics and best practices of the market leader to achieve their business objectives. Focus was included on Inc. magazine's 5000 ranking of the nation's fastest-growing private companies in 2011, 2010 and 2014. In 2012, Focus was named a Crain's New York Business "Fast 50" growth firm in New York City. For more information about Focus Financial Partners, please visit http://www.focusfinancialpartners.com