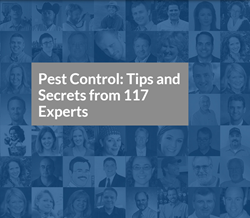 Morrisville, NC (PRWEB) March 24, 2015
Just in time for spring pests to emerge from their winter hiding spots, Insight Pest Solutions is releasing the most comprehensive list of pest control tips and secrets for homeowners.
Insight Pest Solutions has developed an in-depth resource where more than 100 experts weighed in on simple, actionable pest control tips for both indoor and outdoor pests. The list can be filtered by more than a dozen different types of pests.
The resource features renowned experts such as representatives of the National Pest Management Association and the Entomology Department at the University of Florida. It also includes some of the most respected names in the industry, such as BASF, Bayer, and Syngenta.
Here are a few examples.
"Mice far prefer foods with high protein and fat content over cheese. That's why the best mouse trap baits include peanut butter, hazelnut spread, chocolate, and meats like bacon or beef jerky. When using a snap trap, place a small amount of bait on the trigger. Be wary of large portions, which rodents can nibble without tripping the trap." -- Boris Bajlovic, Senior Category Development Manager, Victor Pest
"Bed bugs are exceptional hitchhikers. For travelers, avoid bringing them home from trips; Thoroughly inspect hotel rooms, select the proper hard-shell suitcase, keep your luggage above ground - not on the floor, and wash and dry clothes as soon as you get home." -- Scott S. Svenheim, Associate Certified Entomologist, Truly Nolen, Tucson, AZ
"Chimneys are frequented by squirrels, raccoons, bats and birds, and represent the single largest opening to your home. The installation of an inexpensive chimney cap can save you from having an animal loose in your home, causing damage and a possible face to face confrontation." -- Sean Carruth, Vice President, Critter Control, Inc, Traverse City, MI
Other organizations featured in the article include: USDA, IPM Institute, BASF, Bayer, Rockwell Labs, BedBug Central, Serenity in the Garden, About.com, The Yarden, Beyond Pesticides, Clark Pest Control, Terminix, Dodson Bros. Exterminating Co, the National Wildlife Federation, U.S. Green Building Council, University of Florida, Ohio State University, and more.
The full list can be found here: http://www.insightpest.com/pest-control.
About Insight Pest Solutions:
Insight Pest Solutions was founded five years ago with the mission of providing safe, effective pest control with unparalleled customer service. Since then, Insight Pest Solutions has grown from a small organization with a handful of employees in one office to more than 115 full-time staff members in fifteen locations nationwide. Insight Pest Solutions is headquartered in Morrisville, NC. Connect with Insight Pest Solutions at http://www.insightpest.com, on Facebook, or on Twitter.