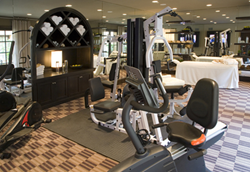 Tampa, FL (PRWEB) March 19, 2015
Arthur Rutenberg Homes, a luxury custom home builder with extensive experience in building residences with home gyms, published a new article on decision-making when creating luxury home gyms. Click here to read the article.
From free weights to audio systems, homeowners can now control of everything that goes into a home gym. The article provides advice on what to do when discussing plans for a home gym with your new custom home builder or re-modeler.
Home gyms used to be limited to an exercise bike and some weights, but luxury homeowners demand more. When busy people have limited time or need to work on their own schedule, home gyms make perfect sense.
The luxury custom home gym article delves into the areas that customers often need to thing about when designing their own gym. These include:

Fitness Equipment for a Home Gym
Entertainment Features for a Custom-Built Gym
Temperature Controls in the Gym
Workout Snacks and Drinks
Tech Features for a Home Gym
Home Gym Storage
Relaxation Features for Post-Workout Needs
Shower and Dressing Rooms in a Home Gym
Important Architectural Features for a Successful Home Gym
Design Features That Can Make or Break a Home Gym
The article goes on to advise that prospective home gym buyers should consult with their new home builder or a designer and remodeling expert prior to starting a project. The home gym experts can likely provide smart advice on the home gym project.
To read the full article, click here to read about luxury custom home gyms.