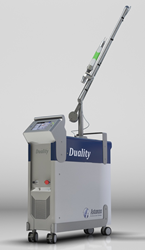 We pride ourselves in technology, training, and experience which is why we are now using the Astanza Duality.
Tampa, Florida (PRWEB) March 20, 2015
Arviv Medical Aesthetics recently upgraded their technology to the state-of-the-art Astanza Duality tattoo removal laser. The Tampa medical spa specializes in medical, aesthetic, and laser services and is dedicated to bringing the best results to their clients. They are constantly striving to provide the highest quality of care and are already seeing better results with their new Astanza Duality.
"At Arviv Medical Aesthetics, we go above and beyond to provide the best experience for all of our clients," said founder Dr. Tali Arviv. " We pride ourselves in technology, training, and experience which is why we are now using the Astanza Duality. This advanced technology not only delivers better results for our clinic, but also proves that we are always looking for ways to improve our services."
Arviv Medical Aesthetics offers a variety of laser treatments, with laser tattoo removal being one of the most popular in the Tampa area. Laser tattoo removal is the safest, fastest, and most effective solution for unwanted ink. With its advanced Q-switching technology and high peak power, the Astanza Duality delivers unmatched performance for faster tattoo removal results.
"Astanza is very excited for Arviv Medical Aesthetics to have chosen the Duality," said Ryan Lambert, President of Astanza. "Dr. Arviv and her team are exceptionally passionate about aesthetic services, and their dedication to providing the best tattoo removal technology will benefit Tampa-area patients."
ABOUT ARVIV MEDICAL AESTHETICS
Arviv Medical Aesthetics specializes in cosmetic procedures including laser tattoo removal, hair removal, cosmetic injectables, and general skin care. Owner Dr. Tali Arviv, completed her residency at Orlando Regional Medical Center in Internal Medicine and is dedicated to providing the best patient care and aesthetic services.
All clients are offered free consultations for laser tattoo removal. For treatment pricing and more information, visit http://www.arvivaesthetics.com or call (813) 855-0111. Arviv Medical Aesthetics is located on 11327 Countryway Blvd, Tampa, FL 33626.
ABOUT ASTANZA LASER
Astanza is a leading manufacturer of aesthetic lasers with a unique focus on the application of laser tattoo removal. In addition to developing cutting-edge medical laser devices such as the Duality, Eternity, and Trinity laser systems, Astanza offers its customers a complete range of training, marketing, and business consulting services specific to achieving success in this growing field.
Astanza Laser, Inc. is headquartered in Houston, Texas with customers throughout North America and Europe. For product, investor, or press information, call (800) 364-9010, or visit http://www.astanzalaser.com.