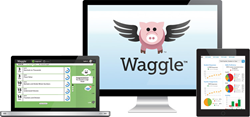 Waggle helps students master skills through productive struggle and personalized feedback.
New York, NY (PRWEB) March 19, 2015
EdTech Digest recognizes Waggle, a personalized, smart practice solution from Triumph Learning, producer of critically acclaimed K-12 texts and interactive digital tools, as a finalist for its annual awards program in the Cool Tool category for Emerging Technology Solution. Waggle is recognized for its innovative use of productive struggle to help students achieve success.
Waggle generates a smart practice environment to help students in grades 2-8 build critical thinking and prepare for assessments. The online tool champions productive struggle by creating a safe and engaging space for students to explore, build confidence and accelerate learning for English language arts and math. Waggle also offers teachers a differentiated instructional tool set so that they can easily group students and deliver recommended practice or instruction to groups or individual students to meet students where they are.
"Waggle helps students master skills through productive struggle and personalized feedback," said Aoife Dempsey, chief technology officer for Triumph Learning. "This recognition showcases Waggle's impact on transforming student learning."
EdTech Digest, an online publication serving the education community as a resource for education technology, interviews, and trends, sponsors the Cool Tool Awards. The awards program is in its fifth year and honors outstanding contributions to people and companies working to transform education through technology for all learners. All entries undergo thorough evaluation from a panel of educators, entrepreneurs, journalists, and technology professionals who are leaders in their respective fields.
Learn more about Waggle at http://www.triumphlearning.com/waggle.
About Triumph Learning
Triumph Learning, LLC, is a leading educational content company and publisher of print and digital K-12 resources, standards-aligned instructional materials and effective literacy programs, serving more than 6 million students in 36,000 schools in 2013. Triumph Learning offers unique student solutions, robust teacher support, and professional development opportunities. Triumph Learning is committed to serving all students with a mix of interactive digital tools and innovative student texts with products such as Coach and Waggle. For more information, visit http://www.triumphlearning.com.