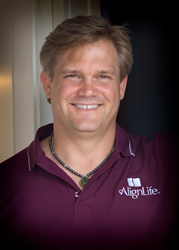 There is no limit to your potential when you mentally, physically & spiritually prepare, you can accomplish anything.
East Stroudsburt, PA (PRWEB) March 21, 2015
Dr. Brettney Ramsour, AlignLife East Stroudsburg, has been a chiropractor for over 20 years, specializing in family and sports therapies. Dr. Ramsour's passion for helping athlete's reach peak performance has been proven over and over again. The doctor has helped his patients reach beyond peak performances when they were told they would never be able to compete again. Rachael was referred to Dr. Brettney recently, and the results have been awe inspiring. Through Chiropractic care and coaching with nutrition and visualization techniques, Rachael was able to break the school record. She poll vaulted 11.6; however, when you look at the video she actually cleared 12 ft. Rachael has set a new goal of 13 ft, and is confident with Dr. Brettney's help she will achieve her goal.
Dr. Brettney Ramsour received his doctrine of chiropractic from Life University in 1994. He has been practicing for over 18 years. Dr. Ramsour helps a wide range of people from professional athletes to babies, even caring for babies before they are born by caring for their pregnant mothers.
Being a previous athlete himself has helped his drive to keep athletes in peak physical performance; knowing that maintaining the body is just as important as practicing the skill. He has treated world class athletes ranging from Lenox Lewis, the heavy weight boxing champion of the world, to George Foreman, Tommy Hearn, Evander Holyfield, Prince Hassime, the light weight champion of the world, and most recently has trained Officer John Jakobsen who won the Gold metal in the Military, Police and Fire world wide Olympics. He is currently working with NFL players from the Eagles. He was, for over 10 years, the HBO chiropractor for the Athletes and the Ultimate Fighting Championship.
His passion is to educate and instill wellness concepts and bring balance to people's lives. Dr. Ramsour and his staff serve their community each year by cooking for the homeless and the elderly, as well as running coat drives and toys for tots drives to give back to the community he cares so much for. He is also the founder of the "Take Back Your Health" seminars.
Interested in how Dr. Brettney and chiropractic care can help you achieve your goals?
Contact Dr. Ramsour at eaststroudsburg(at)alignlife(dot)com, call 570-476-5577 or find them on Facebook!