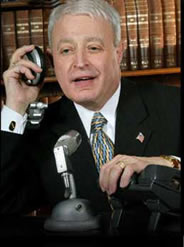 What happened to pride in our country?
Harrisburg, Pennsylvania (PRWEB) March 20, 2015
"When will enough be enough? When will Americans step up to the plate and stop excusing the inexcusable actions that have recently surfaced across the country?" asks experienced Defense Attorney Corky Goldstein in the video below.
Starting with UCLA's recent statements that were construed as anti-Semitic toward a co-ed applying for the student government's judicial court by implying that by being Jewish, the student would be unable to be fair reported by the New York Times on March 5, Goldstein goes on to discuss the story reported by Reuters and published by the Huffington Post on March 6 relating to UC Irvine's student body voting to remove the American flag from the campus's main hall, where it has always flown, and Oklahoma University's SAE Fraternity's vicious racist video - reported by MSNBC on March 18 - that has gained national attention.
"What happened to inclusivity and pride in our country?" Goldstein goes on to ask. In his video, he analyzes America's apparent lack of patriotism and increase in prejudices and presents a straightforward call to action, alerting viewers to the fact that change begins with them.
Goldstein – managing attorney of Mooney and Associates' Harrisburg, Pennsylvania office – has decades of experience in Federal, State and County courts representing high-profile clients. Having worked as a distinguished trial prosecutor in Philadelphia and for 5 Governors and two Attorney Generals, Goldstein understands the legal system.
With a Juris Doctorate from Dickenson Law School of Penn State University and 40 years of experience, Goldstein has become well-known across the state for his media appearances and ability to break down complex issues. Goldstein authored and produced a 14-part series for public television entitled "The Just Generation," and a 16-part series for cable television entitled "Decade of Justice."
He was well-known for his unique style on Court TV in New York City when that program existed, analyzing and commenting on many ongoing, high-profile cases in the Country. He is now a regular contributor on Comcast Newsmakers TV, representing the Pennsylvania Bar Association, analyzing and commenting for them on-air regarding State and National legal/social issues. Attorney Goldstein manages the video legal/social blogs – like that shown below – for Sinclair Broadcasting Group's WHP-TV CBS News while managing their social presence and creating viral content. He has twice received the "President's Award" from the NAACP for his service to the minority community.
If anyone is suited to shine a light on the current anti-Semitism and prejudices making headlines across the nation, Goldstein is the one. To learn more about issues in question and for options on how to react, watch the video below or by clicking here and visit http://www.CorkyGoldstein.com.