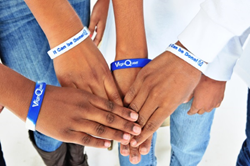 VirginQuest is a social movement inspired by Morgan's love for his children.
South Orange, NJ (PRWEB) March 31, 2015
Local and national media is saturated with incidents surrounding the often-questionable and sometimes criminal, sex-related behavior of our youth. Children are exposed to an ever-growing barrage of sex-related content through extremely influential mediums that include social media, videos, television, advertisements and music lyrics. All have shown to impact the behavior of youth and affect their attitudes about sex. Many might say the population is in a period of wrenching change when it comes to the sexual attitudes and behavior of youth – much of it without clear guidance, information, or control.
Parents and educators continue to seek answers to successfully address these growing concerns. Newark, NJ native and father of six, Jeffrey T. Morgan, seeks to provide a meaningful path for change through his newly-launched 501(c)(3) organization, VirginQuest.
VirginQuest is a social movement inspired by Morgan's love for his children and for all children. His goal is to empower children, teens and young adults to be self-disciplined and understand that marriage is the best time for sex. Through curriculum-based initiatives such as student workshops, parent and teacher awareness training and a safe online portal that protects young users from accessing sexual content via the internet, VirginQuest will provide our youth with an acceptable alternative.
Morgan has more than two decades of experience working with youth as a Stevens Technical Enrichment Program (STEP) counselor, an Essex County Youth Correctional Facility volunteer mentor and as a religious instructor. Partnering with other educators, he is working to develop a curriculum appropriate for dissemination as a seminar for children in fourth through sixth grades, as well as a six-week AbstinenceQuest program aimed at middle and high school-aged students.
"We are all aware of the distraction that sex can create for our youth, as well as the potential related dangers that exist," says Morgan. "We believe that Virgin Quest has the opportunity to start making a very important and necessary shift in our culture; we must start now. Our goal is to shape a new generation of self-disciplined children, teens and young adults who embrace their virginity – and, perhaps even more importantly, a society that supports this very important individual choice. This is a realizable answer. #It can be done!"
In addition to growing a member base dedicated to spreading its message, VirginQuest seeks support in the form of donations and financial sponsors, as well as technology partners interested in helping build a safe online portal with internet firewall protection, plus email and instant messaging platforms that feature content monitoring to alert parents when questionable content is accessed.
Any individual or organization who would like to learn more or donate is encouraged to visit http://www.thevirginquest.org or call (800) 699-6747 for information.