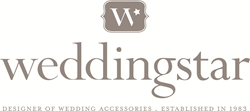 The past 30 years of investing in our product line and striving to stand out in the wedding industry got the attention of the industry giant – The Knot. -Rick Brink CEO
MEDICINE HAT, CANADA (PRWEB) March 19, 2015
Weddingstar Inc. has finalized a deal to become the exclusive administrator and service provider for The Knot's online wedding shop. Weddingstar Inc, is very pleased to have this significant opportunity to provide greater exposure for its ever-evolving brand of wedding accessories and décor related products.
Rick Brink, Weddingstar Inc. founder and CEO says, "The past 30 years of investing in our product line and striving to stand out in the wedding industry got the attention of the industry giant – The Knot. This deal is a reflection of the expertise and dedication from our product designers, web programmers, customer service representatives, warehouse staff, personalization technicians and administration team."
Patricia MacArthur, Weddingstar's Executive Creative Director says, "We are thrilled that more brides will see our innovative products, all designed to help them create a spectacular wedding celebration."
Weddingstar recently made a significant investment in personalization equipment and anticipates that staffing in this area of the company has the potential to double in size. Weddingstar has begun the process of hiring 40 to 60 full and part time employees over the next three months. These employees will be needed to handle the increased order volumes expected as a result of this partnership. Most of these new hires will be for the expanded personalization department. Any potential applicants can review opportunities on http://www.weddingstar.com/hr.
About Weddingstar Inc.
After 32 years, Weddingstar Inc. knows that weddings are all about the details. Whether large or small, details truly make the difference and helping brides weave them all together perfectly is simply what we do. Visit http://www.weddingstar.com @weddingstar on Instagram / Weddingstar on Facebook to see all the details.
Wedddingstar's extensive selection of wedding products features many exclusive designs inspired by our talented staff. Hand-finishing by skilled and experienced crafts people results in quality, unique wedding accessories. Innovative and fashionable products are combined with perennial favourites to create a diverse selection that responds to the dynamic wedding market. This ability to evolve and change has made Weddingstar a leader in the Wedding industry.
Weddingstar sells internationally via its website http://www.weddingstar.com. It has exclusive distribution of the Weddingstar product line in the UK via the UK's leading wedding destination http://www.confetti.co.uk . In addition, Weddingstar has other exclusive distribution relationships in Australia and South Africa.
Weddingstar publishes the Weddingstar magazine with magazines on sale on newsstands across North America. The magazine is also published in Australia, the UK and soon to be in South Africa.
CONTACT:
Terence Kowalchuk
Weddingstar Inc.
403-529-1110 x111
403-928-2181 cell
tkowalchuk(at)weddingstar.com