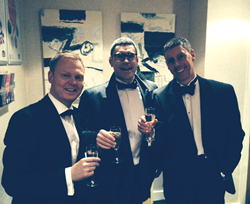 Iain Brassell, Managing Director at IS Recruitment states, "We look forward to working closely with Mike Smith and his team whose knowledge, experience and productivity we have seen firsthand and who we know share our core values
(PRWEB UK) 23 March 2015
IS Recruitment and Saxus are excited to announce the merger will take place with immediate effect to create a unique recruitment proposition within the IT and Technology, ERP, Intelligent Transport Systems and the Insurance and Pensions sectors. Operating as separate companies, they already service a significant share of these markets and by combining these resources, their goal is to continue as the premier supplier of choice to their clients, whilst seeking to invest in developing deeper talent pools of suitable candidates across all of these sectors.
IS Recruitment and Saxus have always been committed to providing a comprehensive recruitment solution to the industries they serve. Thus, currently working as complementary brands, with a shared vision and values, the merger is a natural fit.
Iain Brassell, Managing Director at IS Recruitment states, "We look forward to working closely with Mike Smith and his team whose knowledge, experience and productivity we have seen firsthand and who we know share our core values of professionalism, diligence and integrity." With their combined experience of over 50 years in recruitment and cementing this relationship will allow them to more effectively service their existing clientele and customers in the way they know best.
Today's agreement enables them to build upon the years of experience the two companies have with Permanent IT Recruitment, Contract IT Recruitment, Executive IT Search & Selection, Competency Based Interviews, Change Management, Managed Services Consultancy, Enterprise Resource Planning and Intelligent Transport Systems.
Mike Smith, principal founder of Saxus Solutions agrees stating, "The merger of our two companies will bring extensive value to our customers. The depth and breadth of our recruitment and staffing experience is second to none. Our clients consistently tell us that market knowledge, depth of resource, adaptability and national and international coverage are important to them. Joining up with IS Recruitment obviously enables us to better to satisfy those criteria's. We believe our clients will immediately see the logic behind this and the benefits to them."
The combined business will have a team of over 20 staff across offices in London and Manchester. This merger reflects their commitment to offering quality solutions and declares their aim of becoming a partner of choice.
About IS Recruitment
Established in 2005, IS Recruitment (ISR) is a leading supplier of professional IT and Technology Recruitment Services. Based in Manchester and London, they have extensive experience of delivering Permanent, Contract and Executive Search staffing solutions across Europe and the Middle East, working with raw start–up's through to global FTSE 250 businesses.
Their Practice Leaders have a wealth of experience and knowledge in their particular discipline, which includes the following:

Software and Web Development
IT Support and Infrastructure
ERP (Sage ERP X3 / Dynamics / SAP / Business Intelligence)
Big Data / Artificial Intelligence
Intelligent Transport Systems (ITS)
Smart Grids
To understand how they can help you or your business more, please call their Head Office on 0161 973 2533 to speak with one of the team or email them at enquiries@isrecruit.com.
About Saxus Solutions
Saxus Solutions was incorporated in March 2003 and has become an established United Kingdom Information Technology Services Company. The company provides superior human capital solutions through IT staffing solutions, IT managed services, high level front-end project consulting specialising within the Insurance & Pensions domains.
You will be pleased to hear that it's business as usual and their services will be unaffected, but if you have any questions at all, please just email them at kenty@saxus.co.uk or give them a call on 0207 953 9760 or 0161 973 2533 they would love to hear from you.
For more details on the merger and the company's services, see their contact details below.
Company Contact:
45 Beech Street
London
EC2Y 8AB
Tel: 0207 953 9760
Email: kenty@saxus.co.uk
Website: http://www.saxus.co.uk
Company Contact:
72 Cross Street,
Sale
Cheshire
M33 7AN
Tel: 0161 973 2533
Email: hollie@isrecruit.com
Website: http://www.isrecruit.com