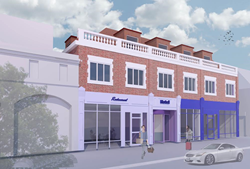 hotel developments present a unique set of challenges. We worked closely with Barnet Council at pre-planning stage to deliver a workable scheme that complies with both local and national planning policy.
Hendon, London (PRWEB UK) 20 March 2015
Drawing And Planning are delighted to announce that plans for a Hotel (C1) in the heart of Golders Green, have been approved. The scheme will see the iconic Solly's Building, which has remained partly derelict since a devastating fire in 2007, finally receive a new lease of life.
The approved Hotel will also consist of a new Restaurant (A3) on the ground floor adjacent to the hotel entrance. The Hotel will generate new jobs and meet the demand for budget hotel accommodation in an underprovided area. Room rates are projected to be between £40-£80 per night. Cleaning, laundry and catering services will all be outsourced, thereby contributing to the local economy.
The team at Drawing And Planning worked closely with the planners at Barnet Council, who supported the principle of C1 use during our pre-application negotiations and subsequent applications. Barnet Council recently experienced a major overhaul of their planning department when it was outsourced to RE Ltd., a joint venture between Capita and Barnet Council. In our experience, this new venture is proving to be a major success. Planning applications are processed more efficiently and target determination dates are generally achieved.
The successful scheme is the culmination of months of tireless effort on the part of the team at Drawing And Planning. Our Architects and Planners took great pleasure in carrying this most exciting hotel scheme through the planning process.
Our client, the freeholder of 146-150 Golders Green Road NW11, is delighted with the outcome and we look forward to working with them again on their next venture. We have been advised that the site is now FOR SALE with the benefit of planning permission so if you wish to own and operate a hotel in the heart of Golders Green, London, please be in touch.
Likewise, if you own a site and would like independent expert advice on the scope for development, whether residential or commercial, please be in touch.