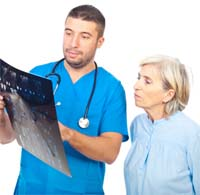 The final diagnosis was metastatic epithelioid malignant pleural mesothelioma.
Raleigh, NC (PRWEB) March 21, 2015
Doctors in Rome say advanced immunohistochemical testing helped them distinguish mesothelioma from what was originally thought to be breast cancer. Surviving Mesothelioma has just posted a new article on the case. Click here to read it now.
Oncologists at Umberto I Hospital report that a 49-year-old female hairdresser came in with a lump in the lower layers of her right breast. Immunohistochemical testing allowed them to identify its true origin.
"Estrogen receptors and progesterone receptors were negative," writes Dr. Marialuisa Framarino-Dei-Malatesta, the paper's lead author. "The final diagnosis was metastatic epithelioid malignant pleural mesothelioma."
As the authors point out in the World Journal of Surgical Oncology, it is unusual for mesothelioma or any cancer to spread to breast tissue. The case points to the special challenges of mesothelioma diagnosis.
"Almost all cases of mesothelioma are associated with asbestos exposure and this Italian case is probably no exception since we know that hairdryers used to contain asbestos," says Alex Strauss, Managing Editor of Surviving Mesothelioma. "The case is a reminder of the vital role not only of immunohistochemical testing but also of work history in diagnosis, regardless of the location of a patient's cancer."
For more on metastatic mesothelioma and the Italian case study, see When "Breast Cancer" is Actually Mesothelioma, now available on the Surviving Mesothelioma website.
Framarino-Dei-Malatesta, M, et al, "Breast cancer or metastasis? An unusual case of metastatic malignant pleural mesothelioma to the breast," February 25, 2015, World Journal of Surgical Oncology, Epub ahead of print, http://www.wjso.com/content/13/1/79
For nearly ten years, Surviving Mesothelioma has brought readers the most important and ground-breaking news on the causes, diagnosis and treatment of mesothelioma. All Surviving Mesothelioma news is gathered and reported directly from the peer-reviewed medical literature. Written for patients and their loved ones, Surviving Mesothelioma news helps families make more informed decisions.