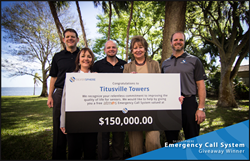 This year's giveaway winner is a great example of what quality senior care looks like when it is fueled by passion.
(PRWEB) March 24, 2015
In February of this year, Silversphere had the honor of recognizing Titusville Towers, located in Titusville, FL, as the winner of their annual Emergency Call System Giveaway valued at $150,000. Click here to watch the video of this year's Emergency Call System giveaway surprise.
Each year, Silversphere accepts nominations from low-income, not-for-profit, senior living communities around the country that are seeking to improve the safety, security, and independence of their residents with a state-of-the-art emergency call system. Silversphere, a senior living technology provider, recognizes that a properly designed emergency call system is a critical part of daily operations for all senior living communities and helps to improve the resident experience while giving families peace of mind. For the deserving senior living community of Titusville Towers, this new emergency call system meant that potentially life-saving technology was finally within reach.
"This new Silversphere Emergency Call System is going to modernize our facility in many ways. For our existing residents, it is going to provide more independence and added safety. For the families of our residents, they will be more comfortable knowing their loved ones have access to our staff at the touch of a button," said Beth Ann Walker, ALF Manager, Titusville Towers.
This year's giveaway winner is a great example of what quality senior care looks like when it is fueled by passion. Because of their relentless commitment to improving the quality of life for seniors in their community, Titusville Towers will be provided a brand-new and absolutely free Silversphere emergency call system, including consultation, components, installation, and real-time management reporting.
Nominations are already being accepted for next year's giveaway from community employees, neighboring communities, residents, family members, community residential boards, and anyone else who knows of a deserving community. To qualify, the community must be a United States 501(c)(3) nonprofit organization or a tribe/tribally designated housing entity with a stated mission of providing housing to low-income seniors. All nominations must be received by 5pm ET on December 31, 2015. To nominate a community, visit http://www.silversphere.com/giveaway.
About Silversphere
Silversphere is a senior living specific technology company that enhances the way people and organizations care for seniors wherever they may call home. Our trusted technology provides every senior the safety, security and independence they deserve by giving their caregivers the ability to be proactive and not just reactive. Together, our solutions provide personal health monitoring, safety & security, and care accountability to seniors and their caregivers anywhere in the world.