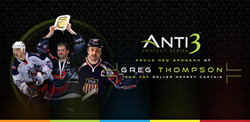 I remember watching Greg play when he was younger. He was really amazing Quote CEO Chris Ferrara
New York, Jericho (PRWEB) March 20, 2015
Anti3 Protect Series is proud to announce the addition of USA Inline Captain, Greg Thompson to their A3 Athlete Team. Thompson is a 10-time player for Team New York and National Director of State Wars Hockey. Greg Thompson, age 30, is being considered one of the best players to ever play inline hockey.  
Thompson represented Team USA at World competition for the past 10 years, including 2 World Games gold medals. He was named first-team All-American each year he played in the NCRHA Division I for the Lindenwood Lions. Along with 4 collegiate National Championships, he was named national MVP three times, and is an eight-time NARCH Champion.  Thompson has traveled the world playing as a 4X member of the Men's Inline Hockey Team USA. Greg also played in the Spanish Elite league with Rubi Cent Patins (just outside of Barcelona) and won a European Championship with the Asiago Vipers (italy) as well. In 2012 he was inducted to the Lindenwood University Sports Hall of Fame.
The addition of Thompson, will help solidify Anti3 and their products, in the inline hockey market.  Anti3 CEO Chris Ferrara states, "We have a nice footprint in the ice hockey market but ice and roller are two different worlds.  With Thompson, our name will start getting out there."  Thompson will be joining A3 Athletes Dennis Bermudez, a UFC fighter; Dylan Tavella, star of the Tru Tv's Kart Life; and WBC Champ Cletus Seldin.  
Thompson and founders Chris Ferrara and Dean Spinato have some history together.  Before becoming aligned with Anti3, Thompson grew up playing in the same rink as Ferrara and Spinato.  
"I remember watching Greg play when he was younger.  He was really amazing.  I actually had the pleasure of playing against him a bunch of times and now I have the pleasure of working with him," said Ferrara.
Thompson will be competing this weekend at the Winter Wars East Tournament in Feasterville, PA.
Greg Thompson Accomplishments
12X Member of Team USA 6X World Champion 2X World Games Champion USARS Elmer Ringeisen Sportsmanship Award (Team USA) USARS Team of the Year Award (Team USA)
European Cup Champion (Asiago Vipers) Confederation Cup Champion (Rubi Cent Patins) Kings Cup Champion (Rubi Cent Patins)
4X D1 College National Champion (Lindenwood University)  3X Collegiate MVP Lindenwood University Hall Of Fame Member
2X PIHA Champion
2X NARCh Pro Champion (Mission Labeda Snipers) State Wars Champion (Team New York)
About Anti3 Protect Series:
Anti3 Protect Series. Athletes, health & fitness professionals, doctors, nurses, teachers and more count on Anti3 Protect Series to do just that… protect.
Designed to Cleanse, Defend, and Prevent, Anti3 Protect Series is formulated for today's athletes. Providing the ultimate protection against skin infections and keeping everyone safe from potentially harmful environments, the post-training products are developed to keep the body clean and healthy.
Protects Against Skin Infection – Formulated For Today's Athletes – Antimicrobial – Antifungal – Antibacterial
Contact Information.
333 Jericho Turnpike, Suite 220
Jericho, NY 11753
Contact Number: +800 583-2346