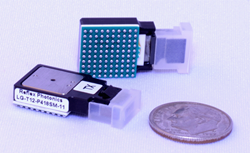 Montreal, QC (PRWEB) March 20, 2015
Conference attendees are invited to see this demonstration at our booth 419 where "dry ice" (-78°C) is dropped on the LightABLE while it is transmitting and receiving 120Gbps with no errors.
Reflex embedded optical modules achieve better than e-12 bit error rate from -40°C to +85°C while transmitting 120Gbps in the size of a penny. The LightABLE has gained much interest from the Aerospace & Defense sector where air, land and sea vehicles experience rapid temperature changes. Reflex has supplied thousands of its LightABLE modules to some of the largest defense contractors to scale signal processing for high performance embedded computing platforms. Reflex Industrial grade LightABLE Embedded Optics are used in High Performance Embedded Computers complying with the new VITA 66 standard.
Gerald Persaud, VP Product Management at Reflex Photonics said: "The high demand for processing in cloud computing and embedded computing is pushing interconnect densities and speeds to unprecedented levels that cannot be met with traditional electrical and optical modules. Embedded optical modules is the only solution that scales to orders of magnitude greater interconnect densities while enabling efficient cooling in the smallest footprint."
For more information on Reflex Photonics and its technology, please visit http://www.reflexphotonics.com or email sales(at)reflexphotonics(dot)com.
About Reflex Photonics
Founded in 2002, Reflex Photonics is an advanced developer of extreme high-speed, parallel channel optical connectivity solutions for Telecommunications, Datacom and Defense applications. The company addresses the growing demand for high-speed interconnects in enterprise-class storage/server environments and telecom-class switches/routers, enabling equipment developers to design smaller, lower cost and lower powered systems that result in higher fidelity and faster connectivity.
InterBOARD®, LightABLE™, Light on Board®, Reflex Photonics and the Reflex Photonics logo are trademarks of Reflex Photonics Inc.