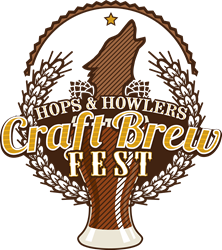 Abingdon, Virginia (PRWEB) March 19, 2015
Advance tickets for The Hops & Howlers Craft Brew Fest in Abingdon will go on sale April 1st, with a special Early Bird price of $30 available through April 15th.
The festival takes place from 4:00pm to 9:00pm Saturday June 20th, at the Abingdon Market Pavilion on Remsburg Drive. In its first year, the Brew Fest attracted over 500 visitors, and organizers are expecting a bigger turnout for the second year, after making tweaks to improve the experience for attendees. The later time helps beat the summer heat, and brewery booths will be located under the shade of the pavilion. The lawn in front of the band will be available for chairs and picnic tables.
Formed by creative songster, DJ, and former actor Stephen Warwick, Ancient Cities melds well-crafted lyrics with synth-laden psychedelia and cinematic moodiness. With electrifying sets at festivals like FloydFest, Bristol Rhythm & Roots, Drumstrong and more, the band turned the heads of critics, fans, and contemporaries alike. "Ancient Cities bridge the gap between indie-rock and classic rock with swift, fuzzy guitars, excited drumming and dreamy atmospheres"-Inforty (UK)
Next on the bill is the unique southern soul sound of Blue Mother Tupelo. Paste Magazine calls this husband-and-wife duo "swampy, gospel-tinged southern soul-blues…[with] soul-searing harmonies." Blue Mother Tupelo is American music that will pull you in to stomp and sway all night long.
The Hops & Howlers Craft Brew Fest is a beer tasting festival that offers festival goers the chance to sample regional & micro-brews, as well as ciders. The breweries are carefully chosen for the ultimate, boutique brew fest experience, which also includes live music and local food options. Tickets are limited, to keep lines short and provide the most opportunities for attendees to learn about the brews they're tasting. Over 30 breweries will be represented at the fest, including local favorites Wolf Hills Brewing, Damascus Brewery, and Holston River Brewing, as well as pioneers in the craft beer industry like New Belgium, Rogue Brewing, Oskar Blues and Devil's Backbone. The festival also features a Homebrew Competition, open to home brewers across the Tri-Cities.
Tickets include up to twenty-one 3oz tastes and a souvenir tasting glass. Early bird tickets for $30 are available for two weeks only, April 1st through 15th. Regular advance tickets are $35, and same-day tickets will be $40. The Festival is also offering a limited number of $55 VIP tickets, which include early admission, complimentary refreshments, and a tasting of 4 additional beers exclusively served in the VIP tent. Tickets are on sale through the website http://hopsandhowlers.com/.
The event is restricted to those 21 and up. Special Designated Driver tickets are available for $10, for those who do not intend to drink, but are 21 and up as well. Valid ID is required for entrance.
Co-presented by Abingdon Main Street and the Abingdon Music Experience, Hops & Howlers Craft Brew Fest is sponsored by EcoLogical Energy Systems and Walling Distributing. EcoLogical Energy Systems will set up an information booth and free solar charging station at the event where attendees can charge their phones.