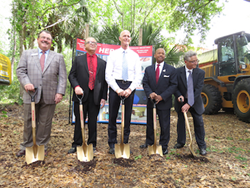 HERNON has experienced one hundred percent growth in sales over the last three years.
Sanford, FL (PRWEB) March 19, 2015
HERNON Manufacturing Inc., the innovator in adhesives, sealants and dispensing equipment recently held a groundbreaking ceremony at the company's headquarters in Sanford, Florida.
Leading the groundbreaking ceremony was HERNON's President and Chief Executive Officer, Harry Arnon. Florida Governor Rick Scot was also in attendance helping HERNON celebrate its expansion as well as announce the creation of 20 new jobs at the company.
"Thanks to Governor Scott's tax cut on manufacturing equipment and Florida's favorable climate for business, we are able to expand our operations and hire more Floridians. HERNON Manufacturing is proud to be a part of the Sanford community and we look forward to continued growth," said Arnon.
According to HERNON representatives, the building expansion is necessary to support the expected increase in business in the coming years. The expansion will add 27,000 square feet of additional space to their current building space. The company also forecasts increasing its workforce by almost 50% over the next 2 years.
"HERNON has experienced one hundred percent growth in sales over the last three years," said Edgardo Rodriguez, Director of Sales and Marketing for HERNON Manufacturing, Inc. "As we continue this growth, we are running out of space. So much so, that our equipment division was temporarily moved to another building that we currently rent."
The new construction will be located adjacent to the company's existing building, which is situated on the corner of Tech Drive and Central Park Place in Sanford, Florida. The added manufacturing space will enable HERNON to increase its production capabilities. In doing so, it will be necessary to also add approximately 20 new jobs over the next two years.
Governor Scott said, "Twenty new jobs in Sanford means twenty more families who can live their dreams in Florida. In order for Florida to be the number one place in the world to get a job, we must continue to cut taxes for Florida families and job creators like HERNON."
HERNON Manufacturing, Inc. has been committed to delivering world class adhesive, sealant, and impregnation solutions along with precision dispensing systems for nearly four decades. A long-time member of Central Florida's industrial manufacturing community, HERNON offers strong brands and technologies, all made in the United States, for a diverse range of industries including: Energy/Power Generation, Medical, Electronics, Electrical, LED, Automotive, Appliances, Sporting Goods, Ammunition, Communications, Aerospace, Aviation, High Tech Audio, Defense, Fire Suppression, Transportation, and Marine.
In addition to custom and standard dispensing and curing equipment, HERNON Manufacturing produces and distributes an extensive line of sealants for military and commercial use. HERNON produces several dozen Mil-Spec qualified sealants and is an ISO-9001: 2008 registered company.

Manufacturer of Highest Impact Resistant Structural Adhesive Available (50 Jewels)
Awarded 2012 ThinkGlobal Exporter of the Year
Nominated one of Florida's Top Companies to Watch in 2012
Received the 2012 William C. Schwartz Industry Innovation Award
Named 2013 State of Florida Small Business Exporter of the Year
Recognized by Orlando Business Journal as a Fast 50 Company
Winner of the 2015 Frost & Sullivan Manufacturing Leadership Award
Visit http://www.hernon.com or contact 407-322-4000 for more information.