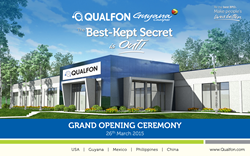 Qualfon's new contact center campus serves as a signal to the world that Guyana's best-kept secret is out. Industry analysts and buyers alike are now recognizing Guyana as the leading outsourcing location in the near-shore region.
Georgetown, Guyana, South America (PRWEB) March 23, 2015
Qualfon, a people-driven business process outsourcing (BPO) company and global provider of contact center services, will hold a grand opening ceremony Thursday March 26, in Georgetown, Guyana, South America. The event will open the doors to Qualfon's new contact center campus and will further validate Guyana's strong yet relatively unknown market for outsourced contact center services, which has prompted BPO industry analyst Michael DeSalles at Frost & Sullivan to call Guyana the "best-kept secret" for English calls.
"Qualfon's new contact center campus serves as a signal to the world that Guyana's best-kept secret is out. Industry analysts and buyers alike are now recognizing Guyana as the leading outsourcing location in the near-shore region, and Qualfon is generating BPO growth with creative concepts in contact center design and a new 10-acre, environmentally friendly campus that will serve the needs of people both professionally and personally," said Mike Marrow, CEO of Qualfon.
As Qualfon unveils its new contact center campus, the ceremony is expected to draw large crowds. Guyana's head of state, President Donald Ramotar, and its Minister of Finance, Ashni Singh, will be key participants in the ceremony, which will include a ribbon-cutting celebration. As part of the event, attendees will also hear from Kirk Laughlin, Founder and Managing Director of Nearshore Americas, Qualfon's Founder, Alfonso Gonzales, and Qualfon's CEO, Mike Marrow. Members of the media, members of the opposition party, and many of Qualfon's partners and employees are also invited. After the ceremony, attendees will have the option to take a guided tour of the campus.
For the past 10 years, Qualfon and Guyana have partnered to develop the BPO industry in Guyana. "Now, we're seeing this market really take hold, and Qualfon is extremely excited to more than double and triple its presence in Guyana when the campus is at full capacity," added Marrow.
The new contact center campus is Qualfon's third contact center location in the Georgetown area and will bring approximately 6,000 new jobs to the region over the next few years. Qualfon is currently hiring customer service representatives, technical support representatives, and managers. More information is available at the Qualfon Guyana Facebook page.
LARGEST CONTACT CENTER CAMPUS IN THE WORLD, ECO-FRIENDLY, INTERFAITH CHAPEL
When completed, Qualfon's campus will be one of the largest contact center campuses in the world and very distinctive in the industry because of its "green" features. Solar power panels, green building materials, a rain water collection system, and an onsite wastewater treatment facility make the campus eco-friendly and environmentally sustainable.
The multi-building contact center campus is located at East Bank Demerara, behind the National Stadium and near top hotels and Georgetown's newest mall. The campus will have two separate contact center operations buildings and 3,500 seats/workstations. The first contact center operations building, called Qualfon Guyana III, will be opened during the ceremony. Guyana III is a 57,000 square-foot contact center that includes a training center and cafeteria. It is expected to be in full operation in May. In addition to Guyana III, the campus construction plans include a second 114,000 square-foot contact center as well as a community center, interfaith chapel, and healthcare clinic.
The community center, interfaith chapel, and healthcare clinic are designed to "make people's lives better," as the Qualfon's mission states. At the campus, Qualfon will offer programs and services to serve the needs of its employees and their family members, including but not limited to:

Qualfon University: Free training, educational courses and art and cultural opportunities
Free Medical Services: Nurses on staff, basic medical care, vitamins, maternity support and more
Milk Subsidies: Milk provisions for children of employees and local orphanages
Worksite Chaplains: Advice, counselling and access to resources
Library Exchange: A shared library system
Caring Programs: Volunteer opportunities for humanitarian projects
"This whole idea of a green contact center campus is groundbreaking in our industry. Then, when you take into consideration all the employee services that Qualfon provides, you realize that this new campus is truly revolutionary," said Brian Kearney, V.P. of Marketing, Qualfon.
GUYANA'S UNIQUE BPO MARKET
Located on the Northern coast of South America, Guyana is a former British colony and a native-English-speaking country. In a 2014 visit to Guyana, BPO industry analyst and Global Program Director at Frost & Sullivan, Stephen Loynd, described the country as "strategically positioned to be a major player because Guyana's population speaks English as a first language, has a high cultural affinity to the United States, has one of the highest literacy rates, and offers a cost structure that directly competes with India and the Philippines."
"It provides a real opportunity. We were impressed by what this country has to offer in terms of unique characteristics for outsourced services," Loynd added. Qualfon executives agree, citing Guyana as "the most compelling" offering in the global BPO industry.
Additional Resources on the Guyana BPO Industry

QUALFON IN GUYANA
Qualfon was a first-mover to the Guyana marketplace back in 2005. Today, it is the largest private employer in Guyana with thousands of employees. The addition of the new contact center campus brings Qualfon to a total of three locations in Georgetown. With an average monthly attrition rate of 4.40% (over the last 36 months - including new-hire, nesting and production attrition) Qualfon Guyana is recognized for providing high-quality services at a lower price.
Qualfon is making major investments in Guyana, because it is a country that is well suited to serve the contact center industry. "Qualfon's largest market is serving customers in the United States, and Guyana understands Americans. They speak the same native-English language and watch the same TV. In addition, they have a diverse and welcoming culture that is unique in the world," said Marrow. "That's why we have decided to heavily invest in Guyana and build one of the largest contact center campuses in the world." Executives also credit the support Qualfon has received from the Guyanese Government and the Go-Invest organization, whose partnerships have helped Qualfon justify further expanding its presence in Guyana.
ABOUT QUALFON
Qualfon is a people-driven business process outsourcing (BPO) company and a global provider of contact center services and back-office processing. With experienced BPO leadership and a strong track record of business growth dating back to our founding in 1995, Qualfon helps companies reduce costs and deliver superior customer experiences. Today, we have 11,000 employees serving international brands across many industries, and our intelligent outsourcing locations span the United States, the Philippines, Guyana S.A., Mexico, and China. Qualfon's mission to "Be the Best BPO, Make People's Lives Better" means we invest in our people and, in return, they take better care of you and your customers. Qualfon's employee retention is twice the industry average, which creates a people-driven value chain: Our employees stay longer, providing you a higher quality service at a lower price. http://www.Qualfon.com