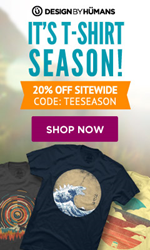 Dude, it's t-shirt season
Chico, CA (PRWEB) March 20, 2015
Design by Humans (DBH) wants to help you get ready for t-shirt season with 20% off all apparel. Starting March 20th, the coupon code TEESEASON will take 20% off any t-shirt, tank top, or sweatshirt, phone case or art print. 20% off is available from midnight March 20th to midnight March 30th. To announce the new spring sale, DBH decided to make an awesome video. Using a local park, the DBH dev guys, a dog and only the best "summer" equipment, a video was born.
The video features a hiker who is fully dressed in winter clothes making his way up a mountain. When he reaches the top, he encounters a group of picnickers all wearing t-shirts and sunglasses who are completely surprised to see the overdressed hiker. The video ends with the hiker being reminded that it is, in fact, t-shirt season. See the video and find out more about the sale here. Stay tuned for some behind of the scenes of the video and keep up with all the current news from DBH on our blog.
DBH also has some great new art from our collective that is trending. Like "The Geometry of Sunrise" by Digsy, "Subconscious Inner Space" by alchemist, and "Pugtato" by SophieCorrigan. Check out all the new trending designs DBH has here.
High Quality Products
Design By Humans strives to offer their customers and artists a wide variety of customizable products using the most efficient, vibrant, and eco-friendly DTG printing practices. With the addition of graphic hoodies and pullovers DBH has created a unique opportunity for their customers to create amazing, custom DBH apparel that fits and illustrates their own unique lifestyle. Graphic pullover sweatshirts and zip hoodies will also continue to uphold Design By Humans' commitment to the environment by using sweatshop-free blanks and eco-friendly inks.
About Design By Humans
Design By Humans was started in 2007 with the simple vision of bringing artists from around the globe together. By giving them a platform to produce wearable art that tells a story, they can strengthen humanity and inspire life through creativity and design. The DBH Collective initiative is inspiring amazing artists and giving them a unique foundation to share artwork through a personal online storefront. With over 25,000 unique designs on T shirts, Tanks, Sweatshirts, Hoodies, Phone Cases and Art Prints, DBH offers their customers truly customizable, high-quality products.
###
If you would like more information about this topic, please call +855 333 9836 x 302 or email press(at)designbyhumans(dot)com.