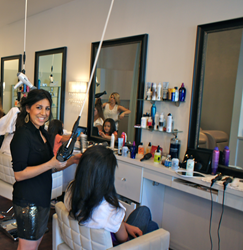 The Freestylist® renders the professional blow dryer weightless in the hands of the hairdresser. - Blair Hopper, Owner of Freestyle Systems
Shrewsbury, MA (PRWEB) March 24, 2015
Freestyle Systems is proud to announce that its flagship product, the Freestylist®, has been listed as a health resource in Modern Salon's Healthy Hairdresser Special Issue this month.
"Modern Salon's Healthy Hairdresser initiative started with a personal plea from a stylist and salon owner who realized the physical toll the beauty career she loved so much was taking on her and her team's well-being," notes the Modern Salon editors. Among the physical challenges that can be experienced by hairdressers are neck, back, shoulder, hand and wrist ailments. These ailments can include carpal tunnel syndrome and other repetitive-stress injuries.
Eliminating these ailments for hairdressers is the primary reason Blair Hopper, founder of Freestyle Systems, designed the Freestylist®.
"The Freestylist® is a patented mechanism that renders the professional blow dryer weightless in the hands of the hairdresser. As a result, it can dramatically improve the ability of the stylists to comfortably do their job and avoid the often painful consequences of a physically demanding career," says Mr. Hopper. Freestyle Systems has customers that agree. Here are two examples that Modern Salon mentions in the Healthy Hairdresser special issue:
"'I have had carpal tunnel syndrome for about 13 years now, dreading the surgery and lost time from work,' says Kathy Jacobs, owner of Sling Blades Hair Design in Durham, North Carolina. Jacobs says that after installing the Freestylist® hanging blow dryer system, she can work up to 12 hours with almost no discomfort. She notes, 'It has given me the opportunity to continue to work and not be riddled with my condition any longer.'"
"In the past I suffered from shoulder and elbow pain from supporting the weight of the blow dryer. Now I am very happy using our hanging weightless blow dryer system, which eliminates most of the fatigue and pain associated with using a blow dryer. I just wish I had started using floating blow dryers sooner," says Carmen Commisso, owner of Hair Xtacy in Burlington, ON and Freestyle Systems user.
About the Freestylist®
The Freestylist® system of hanging blow dryers helps alleviate the pain and ailments of holding an 18-24 ounce professional blow dryer all day. This patented system suspends the blow dryer from above and supports the entire weight. When in use, the dryer feels as if it is floating. It turns on automatically when pulled down, and turns off when it is raised back to its resting position.
About Freestyle Systems
Located in Shrewsbury, MA, Freestyle Systems has been a vendor to the beauty industry since 2005. The company manufactures and distributes the Freestylist®, as well unique LED lights and ventilation systems for hair salons.
Please direct all inquiries to:
http://www.freestylesystems.com
Tel: 508-845-4911, Ext 103