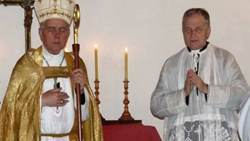 The Society of St. Pius X denounces this episcopal consecration of Father Faure, which, despite the assertions of both clerics concerned, is not at all comparable to the consecrations of 1988
Platte City, MO (PRWEB) March 20, 2015
The website of the United States District of the Society of St. Pius X, has published a communique that criticizes Bishop Richard Williamson's episcopal consecration of Fr. Jean-Michel Faure on March 19. Both clerics are no longer with the priestly society having been previously expelled "because of their violent criticisms of any relations with the Roman authorities."
The communique of the SSPX's General House in Menzingen, Switzerland summarized its opposition to Bishop Williamson's act as having no comparison with the 1988 Episcopal Consecrations performed by Archbishop Marcel Lefebvre:
"The Society of St. Pius X denounces this episcopal consecration of Father Faure, which, despite the assertions of both clerics concerned, is not at all comparable to the consecrations of 1988."
The statement continued:
"The Society of St. Pius X still maintains that the present state of necessity renders legitimate its action throughout the world, without denying the legitimate authority of those for whom it continues to pray at every Mass. The Society intends to continue its work of priestly formation according to its statutes. It has every intention to keep the Deposit of the Faith and the purity of the Church's moral teaching, in opposition to errors, from wherever they may come, in order to pass on such Faith and morals in the traditional liturgy and by preaching, in accordance with the missionary spirit of its founder: Credidimus caritati [1 John 4:16]."
In addition to this news, SSPX.ORG has provided some texts from its website to demonstrate Archbishop Lefebvre's motives behind the Episcopal Consecrations he performed for the Society of St. Pius X in 1988. The Society's bishops were initially declared excommunicated for this act, an accusation the Society of St. Pius X contested on legal grounds as invalid.
On January 21, 2009, Pope Benedict XVI withdrew the excommunications, enabling the Society of St. Pius X to present its doubts about doctrinal issues to the Holy See in a series of discussions. Since the time of Pope Francis, there have only been informal meetings between representatives of the Society and the Holy See.