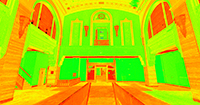 Richmond, VA (PRWEB) March 19, 2015
Timmons Group announced during "National Surveyors Week" their latest software acquisition: a new Leica ScanStation P20 3D Laser Scanner. Known for its ultra-fast scan speeds (up to 1 million points/second) and high level of data quality (120m, max), the P20 3D scanner will allow for fewer setups and less scanning time. Scanning projects save man hours in comparison to conventional methods.
"Timmons Group prides itself on being an innovative firm. This addition to the fleet of scanners already out on projects ensures we have the latest technology available to our clients," said Chris Dodson, Principal of Timmons Group's Field Operations Division.
3D laser scanning is an alternative method to traditional survey techniques that use lasers to measure distances from a known point. The resulting point cloud contains millions of points collected at such a high resolution that shapes of complex objects can be easily viewed and measured with great detail. The process is an easy and unobtrusive way to acquire the finest details of any structure. Best uses for 3D laser scanning include identifying existing conditions in industrial, manufacturing, and fabrication facilities. In addition, architects utilize the scans in development of Building Information Modeling (BIM) to aid in the design process. The Leica ScanStation P20 is the ideal instrument when very short time windows are available and there is a value to capturing high-definition data for client deliverables.
About Timmons Group
Timmons Group is a multi-disciplined engineering and technology firm recognized for nearly twenty years as one of Engineering News Record's (ENR) Top 500 Design Firms in the country. The firm provides economic development, civil engineering, environmental, geotechnical, GIS/geospatial technology, landscape architecture, and surveying services to a diverse client base. Headquartered in Richmond, Virginia, Timmons Group has regional offices across the United States. For more information, visit http://www.timmons.com.