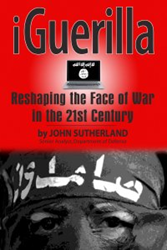 " This should be the first book packed in the duffel bag for those carrying the fight to the enemy."
Palisades, NY (PRWEB) March 20, 2015
John Sutherland's forthcoming book "iGuerilla" has caught the attention of a third military mind. Peter Schifferle, a professor at the U.S. Army's School of Advanced Military Tactics at Fort Leavenworth, Kansas, read the advanced copy and summed up his thoughts with: "This should be the first book packed in the duffel bag for those carrying the fight to the enemy." He joins U.S. Army Military Strategist retired Lt. Colonel Ralph Peters and Rick Baillergeon who holds the George S. Patton Chair, U.S. Army Command and General Staff College who had previously voiced their favorable thoughts on "iGuerilla."
In his book, Sutherland a Senior military analyst for the Department of Defense identifies an iGuerilla as an insurgent who uses progressive technology to achieve regressive ends. Usually an Islamist who uses terror tactics, the iGuerilla seeks to achieve a global caliphate and return contemporary society to a medieval theocracy. This book was written as a military primer to provide a complete understanding of the intentions of the Jihadists, then broadened for the civilian reader
"iGuerilla: Reshaping the Face of War in the 21st Century" 9781940773100 will be published by History Publishing Company on April 25. It will be in Barnes and Noble and bookstores everywhere in the U.S. and the UK.