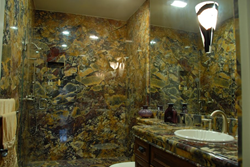 "Use a classic stone for a classic look" said IRG Owner Dilmohan Chadha.
Brisbane, CA (PRWEB) March 19, 2015
Integrated Resources Group (IRG) has recently seen a resurgence in the popularity of white marbles. With an already extensive selection of marble, IRG is now offering Breccia Vendome French Marble.
The beautiful stone is used in bathrooms for an elegant and very upscale look. Breccia Vendome French Marble is a classic stone and deserves to be used in a classic way.
IRG offers a vast selection of marbles, making it the go-to place for the ever-popular marble stone. Currently, white marbles are seeing an even greater increase in popularity.
For centuries, marble has been the stone of choice for sculptors and architects. Marble can be found in many of the world's greatest works of art, including Michelangelo's David and the Taj Mahal. Marble has a subtle veining and special reflective play of light, making the stone perfect for vanities, flooring, bathrooms and walls. Marble is an elegant, dramatic and lustrous stone that homeowners and architects alike continue to love. Visit http://marblecompany.com/pro_cat/marble/ to view IRG's selection of marble stone.
For more information, contact IRG by calling 415-657-0280 for Brisbane, 925-829-1133 for Dublin or stop by the Brisbane showroom at 275 Valley Drive, Brisbane, CA 94005 or the Dublin showroom at 6800 Sierra Court, Suite A, Dublin, CA 94568.
About the Company:
Integrated Resources Group offers the largest selection of natural stone in the San Francisco Bay Area. The family-owned business started as a trading company in 1986 dealing in agricultural products, canned food, apparel and natural stone. With a growing reputation for its high-quality natural stone and excellent service, the company relocated the business to a vast warehouse and showroom in Brisbane, where they now carry more than 250 types of stone. The company opened a second showroom and warehouse in Dublin to service East Bay customers. Its products include natural stone, exotics, glass tile, engineered stone and more. For information on the products and services of Integrated Resources Group, the Bay Area's marble and granite company, call 415-657-0280, visit http://marblecompany.com/ or come into either of their two locations.