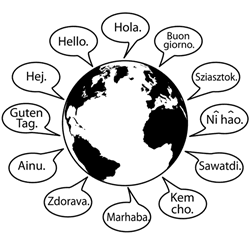 This is truly a multi-languge, multi-cultural resource…. And because it is free for teachers, they can literally start using it today. Rachel MacLeod
(PRWEB) March 20, 2015
TheIBLibrary.com launches a new digital and physical library resource that is free for teachers and helps librarian and information science professionals fulfill the requirements of international school accreditation bodies. Managing Director and Teacher Advocate, Ms. Lisa MacLeod, an IB teacher with over 16 years of experience explained, "All of the titles have been extensively researched and tagged using IB pedagogy so that teachers can immediately find materials that meet these exacting requirements. This allows teachers and students to search the collection using IB terminology such as ATLs, Transdisciplinary Themes, Central Ideas, Learner Profile Attributes, Learning Attitudes, Key Concepts, International-Mindedness, Global Contexts, and much, much more."
Ms. Sue Gwilliam, Advisory Board and Library Advocate, consulted on making sure that the library collection met the needs of librarians around the world. She is an IB trained Librarian and a Chartered Member of CILIP (the UK professional association). She was also the Chair of the CIS & NEASC Re-accreditation Steering Committee for a prestigious Swiss school. Ms. Gwilliam stated, "Accreditation standards are increasingly focusing on the information science role and function in international schools. Acquisition of these titles in either print or digital (or both) will provide the evidence librarians need to demonstrate understanding of the information science role in providing inquiry education and international-mindedness to diverse constituencies. Whether the library is starting from scratch, or wishes to integrate with an existing digital platform, TheIBLibrary.com collection can meld seamlessly with a librarian's needs. For IB specifically, the librarian can showcase their commitment to the ATLs by being proactive in recommending resources during unit planning. Introducing this tailor-made collection to your school will position the library at the heart of inquiry process and further your goal of offering diverse cultural perspectives."
Ms. MacLeod continued, "Guidance/Pastoral counselors will also appreciate that this special collection is searchable by Social-Emotional-Diversity tags such as bullying, self-confidence, ADHD, autism, stuttering, and other physical and emotional challenges. International Mindedness is fostered within the collection from children's book authors around the world that have written about cultures in Asia, France, Australia, India, China, USA, Aborigines and more. Global "connect & collaborate" projects are provided with each book and we facilitate connections between schools and students around the world. The collection is also filled with STEM concepts such as weather, gardening, planets, geography, and ecology. Dual language and translatable books support the needs of educator's diverse ESL requirements."
Ms. MacLeod further stated, "I am extremely proud of our company's international background. The team that has helped with the alignment and curation includes Ms. Bianca Koster and Ms. Rachel Mcleod. Ms. Koster has taught various programmes in the Netherlands, Netherlands Antilles (Curacao) and USA. Bianca was the Principal of the Dutch School in Ghana and worked as an educational consultant in the Netherlands Antilles and Ghana. For the last five years Bianca has been at Changsha WES Academy, an IB PYP World School in China, where she is the vice principal, founding PYP Coordinator, and teaching Early Years-grade 1. Rachel MacLeod originally comes from Melbourne, Australia. She has taught overseas at International schools for nearly 15 years and has taught students from a range of age levels including Pre-K, Grade 1, Grade 2, and ESL. For the past 9 years she has worked in the role of PYP Coordinator and has helped several schools with their PYP journey from the consideration phase to the evaluation visit. She is an IB educator who is qualified for IB site visits and IB consultancy."
Ms. MacLeod concluded, "This is truly a multi-language, multi-cultural resource. We are working on dual language lessons where the mother-tongue is not English. We have plans for resources in Spanish, Mandarin, Hindi, French, and German. My job is to make this collection easy for teachers to use. And because it is free for teachers, they can literally start using it today. I hope that any teacher or educator reading this will immediately visit our site and find a title that is perfect for their lesson. When the right book is located, it can be easily projected within the classroom or delivered to the students' tablets or desktops."
To begin using the collection please visit http://www.TheIBLibrary.com.
For an informative brochure please see: http://thepypstudent.com/wp-content/uploads/2014/07/The-PYP-Library-Collection.pdf
Disclaimer: TheIBLibrary.com is not affiliated with, or endorsed by the IB Organization.
About TheIBLibrary.com a Division of InquiryEd.com
InquiryEd.com provides aligned and curated library collections that meet the needs of any school or educational body in either digital or physical formats. TheIBlibrary.com is a division of InquiryEd.com and focuses on the specific needs of the International Baccalaureate community. InquiryEd.com provides custom library collections for public and private schools around the world in any language, in any format.