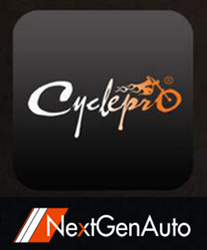 "Industry's first Real-time Customer Session Management and Equity Mining tools help dealers uncover new leads and effectively track them through the sales process"
Dallas, TX (PRWEB) March 19, 2015
CyclePro® is an Interactive Dealer and Inventory management suite for the Powersports dealers. NextGenAuto's state of the art Vehicle Management System allows dealers to stock, manage and sell units faster than any other solution in the market today and comes at a third of the price for a comparable product.
"We are excited to announce the launch of the NextGenAuto Powersports solutions, CyclePro® and BuyCycle®, to the Powersports dealer market" said Kartik Kakarala, CEO and Founder of NextGenAuto. "Our suite of innovative solutions provides powersports dealers with tools they need to manage their sales floor and operations, mine their own data for new leads and connect with their existing and potential customers like never before."
Industry Firsts
Included in the CyclePro® solution suite is Real-time Customer Session Management, providing the dealership management team the ability to track deals at any stage, from start to finish. From the first capture of vital customer information, to completing the financing, CyclePro® tracks each state in the sales process.
CyclePro® also provides dealerships the ability to analyze their existing customer base for new leads, through our Equity Mining Tool. With this application, your dealership can target specific customers with equity, for new purchases, trade-ins or desirable used inventory, from the data you already own.
Offered in both mobile applications and a web based portal, CyclePro® streamlines the appraisal process, capturing and storing information including real-time photos of the potential trade-in. CyclePro® allows for easy capture and creation of the buy order form with Drivers' License scan, customized to the dealerships sales process, through mobile devices or the dealer's web portal.
CyclePro® also provides interactive inventory management of dealer inventory, including floor plan verification and tracking of unit moved from one location to another. Managers will always know where their inventory is with CyclePro®. The CyclePro® solution suite also includes the Service Management Solution, providing CRM capabilities to the dealers service team to contact and manage the dealerships primary assets, their customers.
With the CyclePro® solution, powersports dealerships can now possess the tools in the palm of their hand to manage their business more effectively, and proactively, mining their own data for new sales opportunities, tracking sales efficiency and generating new sales from their existing data.
NextGenAuto integrates with CDK Lightspeed EVO/NXT
NextGenAuto solutions now integrate with CDK Global LightSpeedEVO and LightSpeedNXT. Through this direct integration, CyclePro® enhances the dealerships' ability to use its own data for mining of customer information and direct, targeted marketing to their customer base. This also eliminates multiple entry points of data into the dealerships systems, providing direct feed of leads, inventory and merchandise into the CyclePro/BuyCycle solution.
Integrated Consumer Solutions
With the BuyCycle® NextGenAuto consumer solutions provides the tools for dealerships to be more connected with their customers, providing a dealer branded consumer mobile application, allowing the dealer to interact with their customers directly through their customers' mobile devices. Rich text promotional marketing campaigns can be initiated directly at the consumers through this application's notification management system.
"Our tools can empower a Dealer's customers, providing them self service options such as scheduling appointments, managing their service records and even allowing consumers to solicit offers for their vehicles through the Dealer's branded mobile application", stated Mr. Kakarala.
Consumers are becoming increasingly savvy with mobile technologies and increasingly use their mobile devices for shopping, banking and interacting with friends and family. With the CyclePro® and BuyCycle® solutions, NextGenAuto offers dealerships the opportunity to reach their customers through their mobile devices and help reduce their operating costs by shifting actions to the consumers, while enhancing the customers experience with the dealership.
NextGenAuto Mobile Solutions are customized to the Dealership/Company Name, Branding and Marketing Schemes. Our Mobile applications are launched in Apple, Android, and Windows platforms.
NextGenAuto Expanding Customer Base
"NextGenAuto is currently working with and implementing our CyclePro® and BuyCycle® solution with some of the largest dealer groups in the U.S." said Kakarala. "We are implementing industry best practices into our solution, based on our customers needs and requirements".
About NextGenAuto
NextGenAuto provides interactive, mobile-based inventory and customer management solutions for the powersports, marine and RV industries. Leveraging the years of experience in the automotive vertical, NextGenAuto is applying their experience and expertise to these new industries, offering state of the art mobile solutions. NextGenAuto is based out of Dallas, TX.