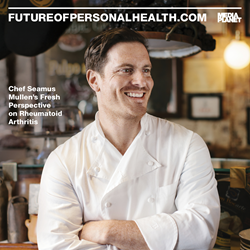 New York, NY (PRWEB) March 24, 2015
Mediaplanet is pleased to announce the launch of its fourth edition of "Bone and Joint Health," a campaign that aims to educate readers about prevention, diagnoses and treatment of common orthopedic alignments. From debunking the common myths surrounding arthritis to exploring the true meaning behind bone density, this campaign urges readers to stop ignoring the warning signs and take control of their personal health.
"Regardless of your age, there are steps you can take to keep your bones healthy," explains Susan Randall, senior director of science and nutrition at the National Osteoporosis Foundation. She continues, "Building, maintaining and protecting your bones as your progress through life is the best way to ensure you stay active and independent as long as possible."
Award-winning New York City chef and rheumatoid arthritis (RA) sufferer Seamus Mullen is featured on the cover of the print campaign. In an exclusive interview, the entrepreneur reveals the steps he took after being diagnosed with RA and details the challenges he faces living an active lifestyle with a debilitating disease.
The print component of "Bones and Joint Health" is being distributed within this weekend's edition of USA TODAY in New York, Los Angeles, San Francisco, South Florida, Washington DC/Baltimore, Phoenix, and Houston. The print campaign has a circulation of more than 450,000 copies and an estimated readership of 1.3 million. The digital component is being distributed nationally through a vast social media strategy and across a network of top news sites and partner outlets. To explore the digital version, click here.
This campaign was made possible with the support of arthritis advocate Seamus Mullen, the National Osteoporosis Foundation, the Arthritis Foundation, Microport Orthopedics, Mazor Robotics, Discount Medical Supplies, and many more.
About Mediaplanet
Mediaplanet specializes in the creation of content marketing campaigns released through multimedia platforms. We provide our readers with insightful and educational editorial in the fields of their interest, designed to motivate them to take action. Our unique ability to pair the right leaders, with the right readers, through the right platforms, has made Mediaplanet into a global powerhouse in content marketing. We continue to explore and expand our network of partners and clients through the shared interest of providing our readers the best experience possible.