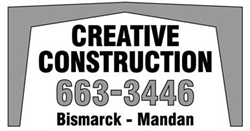 We Build Relationships
Mandan, North Dakota (PRWEB) March 21, 2015
Creative Construction, LLC expands its service options by becoming an authorized, independent dealer for Energy Panel Structures.
Creative Construction, based out of Mandan, North Dakota, has expanded its services by becoming a dealer for Energy Panel Structures, Inc. (EPS). EPS is an Iowa-based corporation specializing in manufacturing energy efficient materials such as Structural Insulated Panels (SIPs) for use in foundations, walls and roofs for both the residential and commercial markets. EPS also produces products for the agricultural and cold storage markets. An employee-owned company, EPS was started in 1981 servicing agricultural post frame buildings systems and subsequently expanded into the commercial, residential, and cold storage markets.
Creative Construction, LLC was established in 2001 and has chiefly built a name as the area's premier metal building contractor in Burleigh and Morton counties in North Dakota. They have built a reputation as a general contractor, with specialty in site prep, excavation, remodeling and snow removal as well. "All though we are in the business to sell, our motto is 'We Build Relationships'," says 3rd generation owner Chad Dietrich. "Most of our business is from repeat customers and word of mouth." The company is known for its professionalism and second to none quality workmanship.
Through their new partnership with EPS Creative Construction will be able to offer engineering and manufacturing services in a package for the customer, with material directly delivered to the construction site. This will only increase the quality and efficiency of their projects.
Creative Construction, LLC is your trusted, local builder.
Visit http://www.CreativeConstructionLLC.com or http://www.epsbuildings.com for more information.