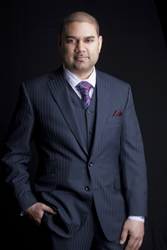 Columbus, OH (PRWEB) March 19, 2015
Dr. Neal Patel announces that he is expanding his practice to include new patients from Columbus, OH that would like to replace missing teeth with dental implants. Dental implants are able to mimic the functions of the original teeth because they are firmly anchored to the jawbone. An implant provides the stimulation the bone needs for healthy growth while ensuring that the crown stays securely in place.
As a person chews, tooth roots encourage the alveolar bone tissue to maintain itself. The jawbone requires that pressure to preserve its density and health. When an individual is missing teeth, the jawbone weakens in that area. As it is resorbed into the system, the jaw is diminished and the foundation for adjacent teeth shifts so that they loosen and may fall out. Without a dental intervention, the face shrinks as the supporting structures degenerate.
An implant differs from traditional tooth replacements in several significant ways. A dental bridge is held in place by the surrounding teeth. A dentist must file down the adjacent natural teeth to affix the bridge, which can weaken otherwise healthy teeth. A dental implant is usually a titanium post, which Dr. Patel surgically places into the bone. As it heals, it integrates with the jawbone and becomes a secure and fully functional anchor.
Dental implants are available for those who are missing an entire upper or lower set of teeth, as well. Dentures can be anchored with four or more implants for a stable replacement option. The implants are placed in strategic locations to maximize the use of available bone, so that even a person who has already experienced some bone loss may be a candidate. Implants must be cared for in the same manner as natural teeth, which includes brushing and flossing twice a day and regular professional cleanings. Anyone in Columbus, OH who is missing teeth should consider the benefits of Dr. Patel's implant options. His website provides information about dental implants for those who would like to learn more.
About the Doctor
Infinite Smiles is a general practice in Powell, OH, providing personalized dental care through the use of the highest level of dental technology. Dr. Neal Patel received his Bachelor's degree in molecular genetics and his DDS from The Ohio State University. He is a member of the American Dental Association, the American Academy of Cosmetic Dentistry, and the American Academy of Craniofacial Pain, among many others. Widely published, he has been featured in Forbes, Newsweek, The Wall Street Journal and is a best-selling author. He has received numerous customer and peer review honors, including Columbus, Ohio Top Dentist and is an Angie's List Super Service Award winner for consistent customer satisfaction. To learn more about Infinite Smiles and the services Dr. Patel offers, visit his website at infinitesmiles.com or call (740) 881-2600.