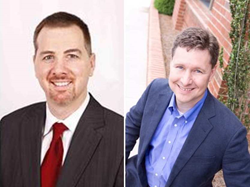 We're excited to show companies how they can take this data a step further to yield savings and improve efficiency.
Charlotte, N.C. (PRWEB) March 20, 2015
Verian has announced a webinar focused on driving smarter spending with spend analytics to be held on Tuesday, March 24 at 2:00 p.m. EDT. During the webinar, Verian's Vice President of Client Advocacy, Tommy Benston, and Tim Murphy, Vice President of Privatin Consulting will discuss how advances in intelligent purchase to pay are helping companies

Make procurement more strategic to deliver bottom line savings
Forge lean purchase-to-pay practices
Create accountability and mitigate risk
Measure strategic transformation
The webinar will demonstrate how proper reporting and analysis of spend data enables companies to identify areas for improvement that stem from off-contract purchases, missed discount opportunities, bottlenecks in processes, risk exposure and more. Benston and Murphy will also discuss how spend analytics can help companies set goals, track performance and measure success against world-class companies in their industries.
"Spend analytics in raw form can only tell us so much," said Benston. "We're excited to show companies how they can take this data a step further to yield savings and improve efficiency."
Benston plays a key role in customer success efforts at Verian by helping ensure customers reach the goals they set out to achieve. Benston and his team meet with clients regularly to help them take full advantage of tools like spend analytics and reporting to get the most from purchase-to-pay activities. He also connects customers with partners to provide them with additional service options that increase value.
Privatin Consulting specializes in strategic sourcing and procurement transformation. Murphy has over 15 years of experience saving organizations money and improving operations. He has extensive expertise in procurement, sourcing and category management.
Register for the webinar March 24 at 2:00 p.m. EDT to learn more about leveraging spend analytics for smarter spending.
About Verian
Verian is a worldwide leader in purchase-to-pay solutions. Creating visibility and control over clients' indirect spending, we help organizations achieve dramatic cost savings and contract compliance. We drive value beyond implementation by helping organizations bring every pocket of spend under management with our proven See-Manage-Save approach. Learn more by visiting our website at Verian.com.