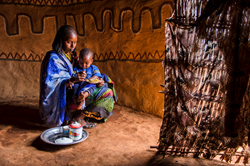 "Our goal is to help people facing repeated drought, hunger and poverty improve their long-term health through better decision making."
Washington DC and Burbank, Calif. (PRWEB) March 23, 2015
Global humanitarian organization Mercy Corps and entertainment powerhouse Warner Bros. are building healthier communities in Ethiopia through a new radio drama that launched this weekend. With support from USAID, the initiative pairs Warner Bros.' storytelling and marketing talents with Mercy Corps' economic development expertise to create "edutainment" that influences the way families make household decisions, manage livestock and eat.
"This initiative taps into the strong Ethiopian tradition of oral storytelling and harnesses the power of stories to entertain and educate," says Dominic Graham, Ethiopia Country Director for Mercy Corps. "Our goal is to help people facing repeated drought, hunger and poverty improve their long-term health through better decision making. Healthy and well-nourished people are better equipped to care for themselves, their families and their communities."
The radio drama airs in the Afar, Oromia and Somali regions of Ethiopia, with characters tailored to each region and episodes broadcasting in local languages. Themes of dietary diversification, equitable household decision making, eating well during pregnancy and livestock health are woven throughout the storyline to encourage changes in behavior that improve nutrition of rural households. Warner Bros. provided pro bono expertise in crafting the show and designing promotional materials and marketing strategies.
"Working directly with Mercy Corps in Ethiopia broadened our perspective on the important role storytelling and marketing play in tackling tough challenges such as nutrition, equitable decision-making and livestock vaccination," says Karen Miller, Senior Vice President, Creative Services, Warner Bros. Worldwide Television Marketing. "This initiative was a life-changing experience that allowed us to apply our expertise in service of a meaningful project for Ethiopian families."
The partnership builds on the successful two-year "We Can Be Heroes" campaign launched by Warner Bros. and DC Entertainment to fight the worst hunger crisis to strike the Horn of Africa in 60 years. The campaign raised more than $5 million and contributed nearly $1.4 million to Mercy Corps' relief efforts supporting mobile nutrition teams that provided healthcare to 115,000 people. Mercy Corps has worked in Ethiopia since 2004 building long-term solutions to help herders and farmers withstand cycles of drought, improving community health in rural areas and diversifying economic opportunities.
About Mercy Corps
Mercy Corps is a leading global humanitarian agency saving and improving lives in the world's toughest places. With a network of experienced professionals in more than
40 countries, we partner with local communities to put bold ideas into action to help people recover, overcome hardship and build better lives. Now, and for the future. http://www.mercycorps.org.