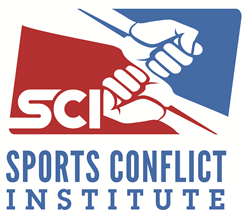 Winning matters. Performance matters. But you can't have success on the playing surface, unless you look after what's taking place away from the playing surface
Portland, OR (PRWEB) March 19, 2015
The Sports Conflict Institute (SCI) and Game Change Athlete Development Services & Consultancy (Game Change) have announced joint services to provide NCAA institutions with a better way to assess student athlete experience and performance efficacy. The Experience and Engagement Review services focus on addressing the needs of NCAA athletic departments, measuring alignment between team and coach goals and university mission. The service is designed to optimize long-term athletic performance while supporting university expectations for academic integrity, community engagement, and social development.
SCI and Game Change support leading sport organizations and elite athletes in developing proactive solutions to improve both athletic and non athletic outcomes. By helping teams uncover personnel issues before they become problems, SCI and Game Change hope to improve the overall experience for student athletes and manage risk for institutions.
"Providing the best possible student athlete experience is crucial for performance both on and off the field," said SCI Founder Joshua Gordon. "Universities understand this, but they need actionable data to find improvement, which is where we come in."
Since even the most diligent staff can miss details around the well being of student athletes, neutral, outside support can be a valuable way to ensure that the right resources are in place for success and that issues are addressed appropriately.
Staff can also face conflicts of interest that lead to under reporting problems while student athletes can have trouble providing candid feedback to the institution, coaches, and administrative staff.
"Winning matters. Performance matters. But you can't have success on the playing surface, unless you look after what's taking place away from the playing surface," Game Change Founder Duncan Fletcher said.
"Our services allow for a holistic approach that complements traditional compliance or sports psychology services to really take the pulse of an athletic department," Fletcher adds. "By acting as an early warning system we can help proactively manage issues to benefit individual athletes, coaches and institutions."
Quality data can help staff make better, more informed decisions on alignment and engagement, giving departments a broader perspective. This can be a cost effective approach to avoiding potential issues before they become crises and waste staff time and other resources.
SCI and Game Change use a variety of qualitative and quantitative data collection methods to conduct an Experience and Engagement Review. These include confidential interviews with coaches, student athletes, staff and administration, as well as process observation, benchmarking, and document review. Both companies have experience across the sports spectrum with staff that have academic and professional backgrounds in mediation, conflict resolution, and social science research.
"Listening to student athlete concerns and giving them a great experience is one of the best ways compete at the highest level," Gordon said.
Read more about SCI and Game Change at:
http://sportsconflict.org/
http://www.gamechange.ca/
About SCI
SCI supports competitive goals in athletics through understanding, preventing, and resolving destructive conflict both inside and outside the lines. SCI serves as a knowledge center and provides a range of services to help ensure student-athlete experience is part of a healthy university culture while optimizing performance on and off the field of play. Conflict is inevitable, but how we respond determines whether success follows or costs mount. SCI Founder Joshua Gordon has over 20 years of conflict management experience.
About Game Change
Game Change was founded in 2011 to serve the athlete development needs of elite and professional athletes and organizations worldwide. Game Change specializes in customized research and assessment services, and the development of highly tailored services, resources and metrics designed to provide long-term positive outcomes for organizations and individual athletes. Game Change, seeking to 'change the world one athlete at a time.'