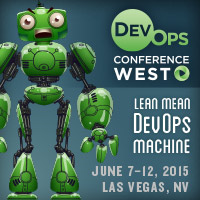 Orange Park, FL (PRWEB) March 23, 2015
In response to the growing need for more information and resources surrounding the DevOps movement, TechWell is introducing DevOps Conference West, an event to be held June 7–12 at Caesars Palace in Las Vegas, Nevada. DevOps Conference West will accompany the annual collocated Agile Development & Better Software West conferences, bringing all aspects of the software development lifecycle together in one location.
Agile Development, Better Software & DevOps Conference West also revealed this year's four keynote speakers, who will be addressing many of the hottest topics in software development today.
Jeffery Payne from Coveros Inc. will be talking about what steps need to be taken to implement DevOps successfully. He will leave the audience with some key takeaways on how to leverage DevOps to advance their careers.
Laurent Bossavit of Institut Agile will explore why several of the common software development assumptions are no longer—or never were—credible, such as the cost of defects curve, the notion of 10x engineers, and the origin of software bugs. In this alternative approach, each member of the audience will use hard data and critical thinking to search for local truths within development organizations.
Stacia Viscardi, founder of AgileEvolution, will explore the future of how new forms of thinking and structure influence business function and how business function evolves new and innovative forms.
And Jeff Patton of Jeff Patton & Associates will share examples of how all of this rule breaking is supported by a culture of experimentation and learning—and how that makes all of the difference.
In addition to world-class keynotes, the conference will offer attendees more than a hundred learning opportunities from speakers such as James Whittaker, Michael Bolton, David Hussman, and James Bach. Pre-conference training classes are also scheduled and offer certifications and continuing education credits from organizations such as ICAgile, PMI, ScrumAlliance, and the ISTQB.
ABOUT AGILE DEVELOPMENT, BETTER SOFTWARE & DEVOPS CONFERENCES:
The Agile Development Conference covers the latest in agile methods, technologies, tools, and leadership principles. The Better Software Conference will explore tools, trends, and issues for topics such as project management, people and teams, software testing and QA, software requirements, metrics, and many more. DevOps Conference covers the latest in methods, processes, technology, and tools that are being used to integrate agile development with systems operations.
ABOUT SOFTWARE QUALITY ENGINEERING:
Software Quality Engineering/TechWell produces several conferences in the software testing industry and provides testing and development training for more than half of the Fortune 1000. SQE is home to several software development and testing communities and produces some of the industry's highest rated publications—Better Software magazine and StickyMinds. For more information, visit sqe.com or techwell.com, or contact Jaclyn Sparks at jsparks(at)sqe(dot)com.
# # #