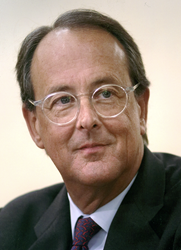 St. Louis, MO (PRWEB) March 19, 2015
Maryville University's commencement will be held at 10 a.m. on Saturday, May 2, at the St. Charles Family Arena in St. Charles, Mo.
Bowles, a veteran leader in business and government, is also president emeritus of the University of North Carolina, and former White House chief of staff and former administrator of the Small Business Administration under President Bill Clinton. As chief of staff, he was a pivotal negotiator in getting America's first balanced budget in decades.
"We are honored to host Mr. Bowles," said President Mark Lombardi, PhD. "He is an accomplished businessman, public servant and educator who will provide our students with insight and wisdom as they begin their journey to reshape their world."
Bowles is at the center of the national dialogue on what must be done to address America's deficit crisis. In 2010, President Obama asked Bowles to co-chair, with former Sen. Alan Simpson, the National Commission on Fiscal Responsibility and Reform, a bipartisan group looking to erase the United States' multitrillion-dollar debt. He has since co-founded, along with Simpson, The Campaign to Fix the Debt, a non-partisan movement to put America on a better fiscal and economic path.
Early in his long financial services career, Bowles worked for Morgan Stanley, then left to form Bowles, Hollowell, Conner, an investment bank that became the preeminent mergers and acquisition firm in the middle market. Bowles later formed a venture capital firm, a middle-market private equity firm and served as a partner in the private equity firm of Forstmann Little.
Bowles has served on the boards of various companies, including Morgan Stanley, First Union Corporation, Merck, VF, Cousins Properties, Norfolk Southern Corporation, General Motors, Belk and Facebook.
About Maryville University:
Founded in 1872, Maryville University is a selective, comprehensive, and nationally ranked private institution with an enrollment of nearly 6,000 students. Maryville offers more than 75 degrees at the undergraduate, masters and doctoral levels to students from 50 states and 32 countries. Consistently ranked as a top private school by Forbes and Kiplinger's, in 2012 and 2013, Maryville was named the No. 1 Overperforming University in the nation by U.S. News & World Report. Maryville's athletics teams compete at the Division II level in the Great Lakes Valley Conference.
Media Contact:
Marcia Sullivan
Vice President, Integrated Marketing & Communications
Maryville University
341.529.9340
Marcia.sullivan(at)maryville(dot)edu