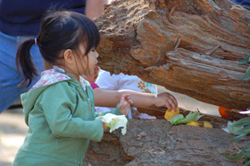 Oakland, CA (PRWEB) March 20, 2015
**FOR IMMEDIATE RELEASE**
March 28, 2015
March 28, 2015…Saturday is Oakland Zoo's bi-annual Feast for the Beasts event (9:00am – 3:30pm). During this family friendly event, the public is encouraged to donate fresh fruits and veggies to the animals. The first 250 guests through the door will receive an exclusive opportunity to spread produce, such as bananas, pineapple, sweet potatoes, cabbage, melons, etc. throughout the elephant exhibit. Once all the food is in place, visitors will exit the exhibit to watch the Zoo's four African elephants (Lisa, M'dunda, Donna, and Osh) chow down the donated goods. Each person who brings produce will receive a free ride ticket. Thank you to 106KMEL for being a media partner and Primal Pet Foods for being the presenting sponsor of Feast for the Beasts. For a complete list of produce the elephants prefer, go to: http://www.oaklandzoo.org/Events.php
***Media Advisory: The best video and photo opportunities for the elephant feeding is between 10:00am and 10:45am.***
Easter Egg Hunt
Join 106KMEL and The Sana G Morning Show in the Zoo Meadow and for the first-ever Sana G Easter Egg Hunt. This activity is open to ages twelve months to twelve years of age. Guests will also have the opportunity to meet the Sana G Morning show crew and the Easter Bunny himself. The egg hunt is included with Zoo admission. Early arrival is suggested.

9:00am: Zoo opens and registration opens for all Easter Egg Hunts
11:00am: Easter Egg Hunt begins for Ages 12 months - 3 years in the Meadow
12:00pm: Easter Egg hunt for ages 4-7 in the Meadow
1:30pm: Easter Egg hunt for ages 8-12 in the Meadow
Besides the Elephant Feeding and Egg Hunt, many other feedings are happening throughout the Zoo for Feast for the Beasts.
Feeding Schedule for Saturday, 3/28
10:30am Elephant Feeding
11:00am Bat Feeding
11:30am Black throated monitor Feeding
11:30am Giraffe Feeding
11:45am Meerkat Feeding
12:45pm Baboon Feeding
1:00pm Tiger Feeding
1:15pm Otter Feeding
1:30pm Lemur Feeding
2:00pm Alligator Feeding
3:30pm Sun Bear Feeding
The Feast for the Beasts event is included with regular Oakland Zoo admission: $11.75 for children (2-14) and seniors (65+), $15.75 for adults. Children under age 2 and seniors 80 years of age and older are FREE. Parking is $8.00 per vehicle. For more information, please call (510) 632-9525 or go to: http://www.oaklandzoo.org/Events.php.
ABOUT OAKLAND ZOO:
The Bay Area's award-winning Oakland Zoo is home to more than 660 native and exotic animals. The Zoo offers many educational programs and kid's activities perfect for science field trips, family day trips and exciting birthday parties. Oakland Zoo is dedicated to wildlife conservation onsite and worldwide. Nestled in the Oakland Hills, in 500-acre Knowland Park, the Zoo is located at 9777 Golf Links Road, off Highway 580. The East Bay Zoological Society (Oakland Zoo) is a nonprofit 501(c)3 organization supported in part by members, contributions, the City of Oakland and the East Bay Regional Parks.
###