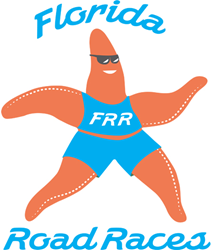 Clearwater, FL (PRWEB) March 20, 2015
Florida Road Races will host its 6th Annual Florida beach Halfathon and 5K race on Sunday, March 22. The races include a half marathon (13.1 miles) & 5K (3.1 miles). Both courses are located entirely in Ft. De Soto Park and are extremely flat with no hills, bridges or discernible inclines. Both courses complete a 5K loop through the parking lot, on the recreational trail, and on the access roads near North Beach. Athletes in the halfathon then complete an out-and-back trek from North Beach to East Beach, finishing back at North Beach. More than 2,500 Athletes are pre-registered between the two races, compared to 1,885 last year.
Start Times:
•7:04 am Wheelchair Athletes in the Halfathon
•7:05 am Halfathon Runners and Walkers
•7:22 am 5K Runners and Walkers
Why Florida Road Races is hosting this event:

Promote a healthy, active lifestyle
Showcase Ft. De Soto Park, our nation's favorite beach
Generate a positive economic impact for our tourism industry
Raise money for local, non-profit organizations
Awards:
Half Marathon Running Starfish Gold Medals for all finishers
Overall M/F Awards for Open, Masters, and Grand Masters, three deep
Age group awards in standard five year increments, three deep
Cash Purse
$6,000 cash will be divided for the top 5 male and female runners after rankings in the Florida Halfathon Challenge are determined. Top prize is $1,000
Visual imagery:
Start line with more than 1,000 athletes in each respective race
Sunrise over the Sunshine Skyway with runners in foreground
Masses of runners traversing the courses
Many participants and sponsors represent the caliber of athlete that Florida Road Races is looking to attract at its events; additionally the company's rising reputation as a destination race organizer has boomed:
1) Husband-and-wife team, Brian and Kayla Atkinson, lead the rankings after the first three rounds of the Florida Halfathon Challenge and are poised to take home their share of the $6,000 cash purse. Both ran for Duke University, and now, Brian is at USF completing his first year of medical school, while Kayla is planning to pursue her masters degree in social work. Both won their inaugural half marathon on the same course during the Halloween Halfathon, with Brian setting the course record in 1:06:59.
2) With athletes coming from 40 states and six countries, the Florida Beach Halfathon is becoming known as a "destination race" - one that attracts athletes from outside the area and helps fill hotel rooms and restaurant tables. After a brutal winter up north, this race celebrates spring at Ft. De Soto Park, the nation's #1 beach.
3) Workplace Wellness: While businesses of all sizes recognize the importance of a healthy staff, one local company has increased their support by not just encouraging employees to participate, but paying their entry fees for 28 employees, as well: MI Metals in Oldsmar.
4) While two half marathons promoted locally by national companies have been canceled recently due to declining participation (Rock 'n Roll Half Marathon and the Women's Half Marathon), the four road races created, planned and staged by a local husband-and-wife team are thriving, with explosive 30 - 40% growth for the last two years. For instance, The Florida Beaches Halfathon is tracking 40% ahead of last year and will have doubled in participation in two years. Race Directors Chris and Rya Lauber attribute this growth to offering the most athlete-friendly races staged anywhere with affordable entry fees, desirable venues, and first class awards.
5) This race will host a veritable cavalcade of highly motivated, inspirational athletes, all of whom will showcase the benefits of running and commitment to a healthy, active lifestyle.
a) Mark Dobersch, a wheelchair athlete who lost his legs to cancer and recently qualified to race at the prestigious Boston Marathon. He will be in the Halfathon, completing 13.1 miles.
b) Diane Berberian, a visually impaired athlete (macular degeneration) who continues to participate in all sorts of endurance races, triathlons and running races. She will be competing in the 5K tethered to a guide and is training to qualify represent the USA in the next Paralympics.
c) Enjoli Pruden-Roberts, a deaf runner who downsized from the halfathon to the 5K race in an effort to allow for physical recovery after she completed her first marathon in January, and several other half marathons since October.
d) The Kondors, a local family of five who will be participating - it will be the first race all five will complete together. Oldest son, Noah, is severly autistic and participates in Special Olympics. Second son, Christian, is a highly ranked high school distance runner who is already receiving letters from colleges for both his running and his academics. Mira, the baby of the family at 9 years old, will be running in her first-ever race after serving as our official Junior Photographer. All three children will be running in Florida Road Races' 5K with their father, Mike, while mom, Lara, is running in the halfathon - she recently finished 2nd in her age group in Florida Road Races' Clearwater 50K Ultra in January.
e) Lois Huyghue, another Florida Road Races athletes suffered a stroke at the age of 18 months, but she lets nothing get in her way as she struggles around each race course. Lois will be finishing our Florida Halfathon Challenge by completing Florida Road Races' 4th Halfathon of the season. She finished her first marathon last January in 8:14.
f) Mike Smith was diagnosed with Ataxia last summer, after working hard to earn his first age group award just months earlier. Now, Mike fights for his life and continues to run in our half marathons to raise awareness for Ataxia.
g) For the first time, Florida Road Races will be hosting a small group of 3 teams who will complete our 5K as part of the Ainsley's Angels program, where able-bodied athletes run while pushing disabled people in "freedom chairs."