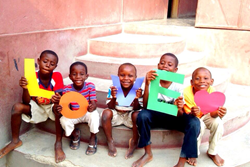 This new dorm will make all the difference in the world to these children. They have been waiting for this for a long time! - Joey Jenkins, Executive Director for Ncompass
Portland, Oregon (PRWEB) March 20, 2015
This Saturday, 19 Oregonians will be arriving in Haiti to partner with the nonprofit Ncompass. Ncompass has been supporting an orphanage in Titayen Haiti with 40 children for over three years now. On Saturday Ncompass, will have a team of 10 high school students, one middle school student and eight adults to help support the children of the Maranatha House Orphanage.
Ncompass is a Portland based nonprofit that has been supporting those in need since 2006. Their primary focus is on youth empowerment and engagement. The organization works both in Haiti as well as locally through a program called Kidstarter, which empowers kids at an early age by connecting them to local and global service projects.
One of many projects and tasks the team will be taking on in Haiti is the initial stages of construction on a new boys' dormitory. Currently the orphanage has two bedrooms and 11 boys sleep in one while 29 girls sleep in the other. The new boys dorm will create significantly more space for the boys while at the same time opening the old boys' bedroom for the girls to have more space as well. This will be a life changing project for these kids and the team is incredibly excited to get started!
The entire project will take about five months to complete. This will just be the first of many projects Ncompass plans to complete in the next few years to support the kids in Haiti's growth and development.
For more information and to keep up with the progress of the building project check online.