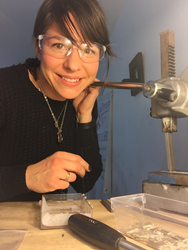 "We've made thousands of sales on Etsy but those represent so much more than just revenue, most importantly the opportunity for us and other creative entrepreneurs like us to turn a passion into a livelihood."
Savannah, GA (PRWEB) March 20, 2015
Savannah, GA – March 18, 2015 — Andreas Argentinis, President of Metal Pressions BY ELISHA ARGENTINIS, announced today a new online initiative Project #ThanksEtsy in appreciation for the role the online marketplace has played in the company's growth.
"We've made thousands of sales on Etsy but those represent so much more than just revenue, most importantly the opportunity for us and other creative entrepreneurs like us to turn a passion into a livelihood."
Earlier this month during a business trip to New York, Argentinis and his wife Elisha, Metal Pressions' co-founder and designer, met with Etsy company leadership and delivered a hand-crafted gift for every Etsy employee.
"Our success is the result of a lot of hard work and a little help from our friends. Etsians may not have known until now but we've always considered this very special group of people located in Brooklyn among them."
Metal Pressions created 570 small silver charms with an inspirational word on each front. "Soulful," "Charming," "Fun," "Brave," "Adored," and "Kind" were just a few. Each backside was hand-stamped 'Etsy est. 2005, Thank You, Metal Pressions."
In hindsight, the one the Argentinis' presented to Etsy's CEO Chad Dickerson should have read "Congratulations."
Unbeknownst to the couple at the time of the charms' production, Chad Dickerson would make headline news on March 4th, just 6 days before their scheduled visit, with the announcement of the company's IPO.
"We hope Project #ThanksEtsy will inspire other sellers to share the impact Etsy has had on their businesses by posting videos and photographs. For example, Metal Pressions has created a short video so the Etsians can see the making of their charms themselves."
About Metal Pressions:
Andreas and Elisha Argentinis are the husband and wife co-founders of Metal Pressions BY ELISHA ARGENTINIS, a line of fine hand-stamped, personalized jewelry for men and women. They use silver and gold to make necklaces, charms, cuff links, rings, bracelets and more.
In 2004, Elisha and Andreas relocated from Fairfield, CT to Savannah, GA. At the time, Andreas worked in operations management in the manufacturing sector and Elisha had taken a break from the corporate world to start a family.
A biology major with a creative flair, Elisha had been making and selling custom crafts and jewelry items for several years. By 2008, demand for Elisha's jewelry items was consuming more and more of the couple's time and they decided to devote their full-time energies to turning Elisha's hobby into a business.
Metal Pressions officially began selling Elisha's custom jewelry on Etsy in April 2009.
In 2011, after three years of research and development, Metal Pressions launched their innovative "Design Your Own" jewelry platform on MetalPressions.com which gives customers the tools to design a personalized item of jewelry.
Metal Pressions BY ELISHA ARGENTINIS has taken the time-honored craft of jewelry making and infused it with modern technology to offer an unprecedented creative shopping experience.