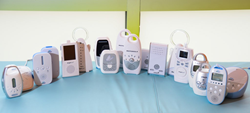 Finding a great monitor with quality sound, and useful features isn't as easy as it should be
Cheyenne, Wyoming (PRWEB) March 23, 2015
BabyGearLab.com tested 9 of the most popular and highly rated sound monitors to determine which products are the absolute best. Each monitor was put through a gauntlet of tests to compare range, sound quality, ease-of-use, features, and more. Based on the test results, the monitors were scored and ranked compared to the competition. Read the Best Baby Monitor Review to see which monitors won awards and which struggled to measure up.
The winners for sound monitors are:
The Philips Avent SCD570/10 won the BabyGearLab Editors' Choice award with a 13 point lead on the competition. This monitor earned scores of 8 or above in every metric tested, with one of the highest scores for sound in the competition. BabyGearLab.com founder, Juliet Spurrier MD, says, "The Philips has nice sound qualities and the features we think are really important in a monitor. With great sound activation this monitor offers a silent environment so parents can get the sleep they need. This unit only makes sound when baby does, which is sort of a non-negotiable in our book."
The VTech Safe & Sound DM221 won the Best Value award. It tied for second place with 2 other monitors, earned the second highest score for sound quality, and has the lowest price tag in the competition. Dr. Spurrier, from BabyGearLab.com, says. "The VTech is a budget friendly monitor that really offers parents a nice quality product without sacrificing features for a lower price. This unit has voice activation and 2 way talk to baby, among other features that include a nightlight. It is hard to go wrong with this inexpensive monitor."
All of the monitors BabyGearLab tested were compared over several months, under identical conditions, to determine which products worked the best and offered the most. Monitors were tested by mimicking standard operation in real world conditions for range, sound quality, and ease of use etc. The results of user experiences and test scores were used to determine the winners and rank the product line up.
BabyGearLab also publishes a companion article for buying advice on finding the right monitor for each parent. This article includes a step-by-step guide to narrow the field of options to the perfect monitor. The article is designed to help parents sort through the myriad of sound monitors to determine which features are a must have, which are nice to have, and what they probably won't even miss. Parents should feel confident in their final purchase decision after reading the buying guide.
BabyGearLab.com is an online baby product review website that conducts unbiased testing and reviews on the most popular baby products. Reviews are designed to help parents find the best products or the best value for each category of gear they are likely to need for bringing up baby. Founded by pediatrician Dr. Juliet Spurrier, the company offers information on various baby products, useful buying guides, and articles related to the health and safety of children. BabyGearLab provides thorough and accurate reviews that parents can trust.