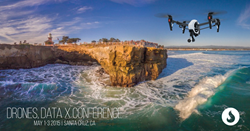 Drones are already here, but we have barely scratched the surface of what they can do. Their potential will grow as fast our ability to process, store and handle the massive volumes of data they can generate.
Santa Cruz, CA (PRWEB) March 20, 2015
Drones are already changing the face of business and humanitarian work – and they are here to stay. This conference brings the best of commercial drones together and explores how drones are going to change the world, for good. The Drone Data X Conference has a line-up of speakers that includes:
Will Sauer, Skycatch – the company making construction faster by helping to introduce driverless bulldozers directed by drones a viable option for an industry facing skill shortages around the globe.
Jay Bregman,Verifly – the former CEO of Hailo, a leading app for catching cabs, is developing a database of drones, allowing users to understand where flying drones is permitted.
Andreas Raptopoulos, Matternet – using drones to deliver life-saving medicine in hard-to-reach places.
JoeBen Beverit, Joby Aviation – a visionary who wants to end the domination of the car and transport you in a personal drone.
Skyd.io are creating computer vision applications that help drones to see and sense the world around them.
Other confirmed speakers are from the Federal Aviation Authority on the regulatory challenges, Precision Hawk which delivers remote sensing applications and data processing services for use in drones and Drone Deploy, making it simple for business to use drones.
Drones Data X kicks off with the main conference on May 1st. Leading global players and entrepreneurs specializing in drone technology will share their insights at Drone Data X – a conference and expo which culminates in a VIP weekend from May 1st-3rd 2015. Select delegates will also have unparalleled, direct access to CEOs, investors and leading thinkers in the drone industry in a structured weekend of action sports and networking in the spectacular setting of Santa Cruz.
The exclusive sports and networking weekend is May 2nd and 3rd with the exhibition running from April 30th – May 3rd. Spaces for the weekend event are extremely limited so book early to secure your place and tickets for the conference and exhibition are also selling fast. Book the conference before March 30th to get an early bird discount.
Find out more details and book tickets online at http://www.nua.io.
Notes to editors
For any press queries relating to this event please contact Philip McNamara +1510 684 7750 [phil(at)nua(dot)io] or Suzanne Jordan +14156599529 [suzanne(at)nua(dot)io].