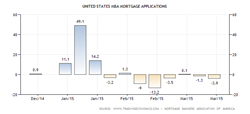 the historical average weekly change is 0.41% from 2007 to 2014
Chicago, IL (PRWEB) March 20, 2015
Lenders like Peoples Home Equity were disappointed on Wednesday, March 19th to see that mortgage applications declined last week.
As shown on TradingEconomics.com mortgage applications declined -3.9% for the week ending on March 14th . With the majority of lender quoting rates above 4% the refinance share of mortgage activity fell by -2.5% to 59% of total applications, the lowest level since October 2014. Purchase mortgage activity also fell -1.5% week-over-week.
Apart from an average rate of 4.01% quoted on a 30-year fixed loan, points also increased to 0.40 from 0.39 (including the origination fee) for 80% loan-to-value ratio mortgages.
Peoples Home Equity views mortgage applications as stuck in a rut. February was the worst month for weekly changes in mortgage applications since Mid-2013 during the taper tantrum regarding the Fed rate policy. Ever since January mortgage applications have been on the downtrend. The 8 week average weekly change is -4.08%, while the 4 week average change is just -2.15%. These averages are terrible in comparison to the historical average 0.41% from 2007 to 2014, according to TradingEconomics.com.
Blame for the decrease in applications are twofold. First is real estate's winter seasonal slump. Second, since so many mortgage applications are refinancing related, recently higher rates has affect demand for loans.
Peoples Home Equity thinks demand for home loans will be returning soon as we enter the spring. The lender is confident that young first-time home buyers eager to stop paying rent will at least try to get approved for a mortgage this spring or summer.
If in need of a mortgage, contact a Peoples Home Equity loan officer today at: 262-563-4026